Was invited to chill out at Sunrise Bistro & Bar last week, an impressive restaurant located at a quaint stretch along East Coast Park.
As the name suggests, Sunrise offers both a bistro and a bar, with indoor and alfresco seats.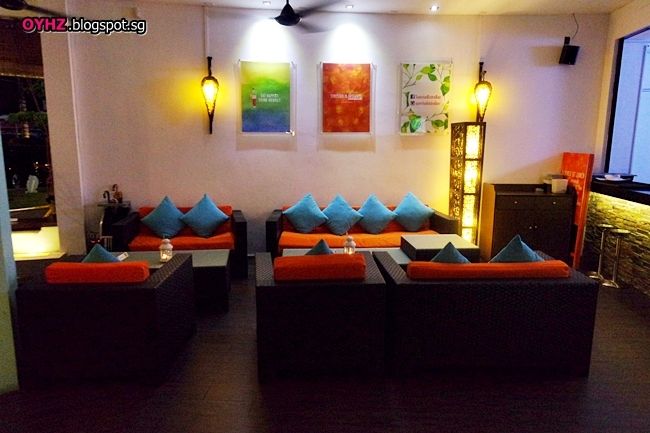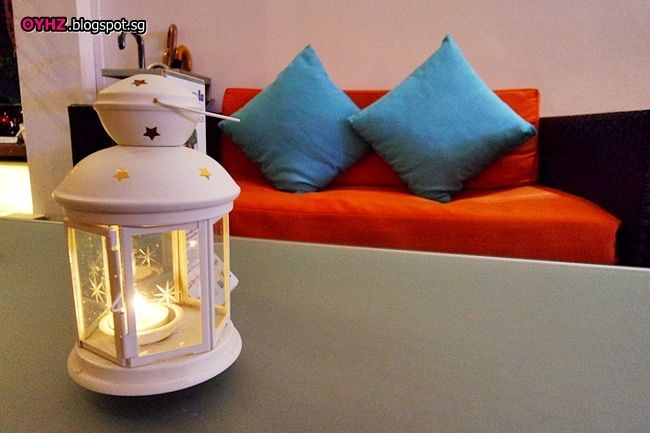 Helmed by 41 year-old Executive Chef & Owner Vincent Teng with an impressive 22-year culinary experience, Sunrise Bistro & Bar specialises in serving casual fusion dishes - French fare cooked with a contemporary twist and a fine blend of creativity peppered with Asian inspired flavours (the Sous Vide way). This enables diners to experience fine dining at more affordable prices!
There is a live band - The Tripsters - that performs every night at 9pm, and allows you to send song dedications. We definitely had a good time with their performance that evening! All photos credit to
molly-mia
's camera cos I didn't had mine. We took turns to "work" that night, haha.
We started off our fine dining tasting with a lovely cocktail - Lady in Pink.
Made up of malibu, vodka, cranberry juice, sparkling wine, and topped with sweet, juicy strawberries, I would definitely go back to Sunrise for this anytime!
Seafood Chowder Soup $12
Creamy seafood soup with seasonal fresh seafood, topped with chopped chives and extra virgin olive oil
The seafood chowder didn't come looking like the usual creamy chowder. It was quite orangey as Chef Vincent included tomatoes in the base to give it a more zesty flavour, making it more refreshing as an appetizer. The soup was served with generous amount of seafood and a bread, definitely value-for-money. One of my favourite for the night!
Seared Foie Gras $19
Seared goose liver on brioche bread layered with mango with citrus jam and berry compote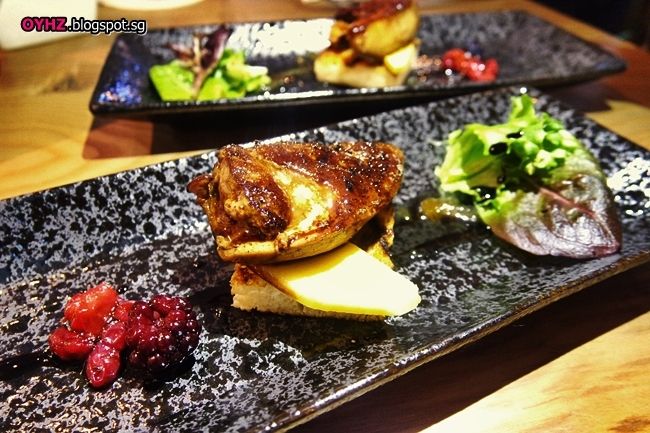 We had half the usual serving-size for the foie gras to leave more tummy space for the rest of the dishes. Sunrise uses goose liver and it was seared to perfection - so fragrant and smooth. The tangy mango slice complements the fatty foie gras flawlessly.
Sunrise "Fish & Chips" $26
Crispy fried red snapper with lemon myrtle pepper served with mango salsa tartare sauce and french fries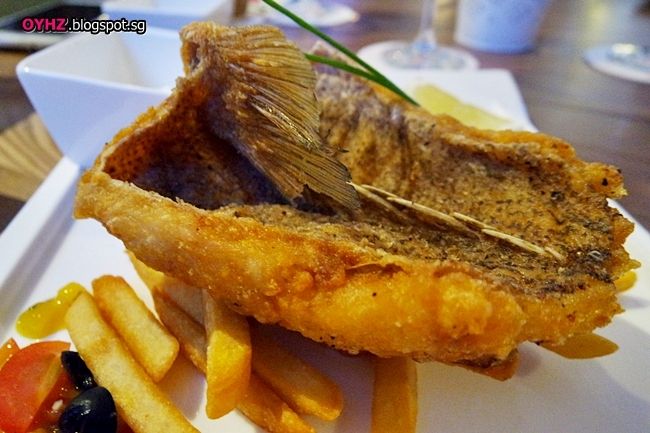 Again, this fish & chips was very different from what we had expected. An absolute embodiment of fusion food - Asian dish with Western presentation. I was telling Mia that it tasted like sweet-and-sour fish without the sauce, probably due to the fact that it is fried red snapper instead of the usual battered dory fish.
Cereal Crusted Cod Fish $28
Baked cod fish with cereal crust served with seasonal vegetable braised in sesame oil and giner shoyu broth
This is my favourite main of the evening.
The cereal crust is so fragrant and crispy, while the texture of the cod fish is tender and flavourful after being soaked in the sesame oil & ginger shoyu broth.
Asian Five Spice Duck Leg Confit $28
Sous vide 8-hour crispy duck leg infused with five spice served with citrus salad & passionfruit sauce
Definitely sous vide for 8 hours as the duck meat was so tender. The skin was totally crispy and fragrant, making me finish up every piece of it.
Marmite Canadian Pork Shoulder $26
Sous vide and grilled pork shoulder with marmite marinate served with seasonal vegetable
The pork shoulder is marinated with marmite before sous vide. This is the first time trying marmite and it was quite good. Not too overwhelming as I had thought. The pork shoulder taste very similar to char siew, without the fattiness, reminding us again of Chef Vincent's fusion culinary approach.
BBQ Beef Short Ribs $32
24-hour Sous vide to tender and roast with homemade BBQ sauce served with seasonal vegetables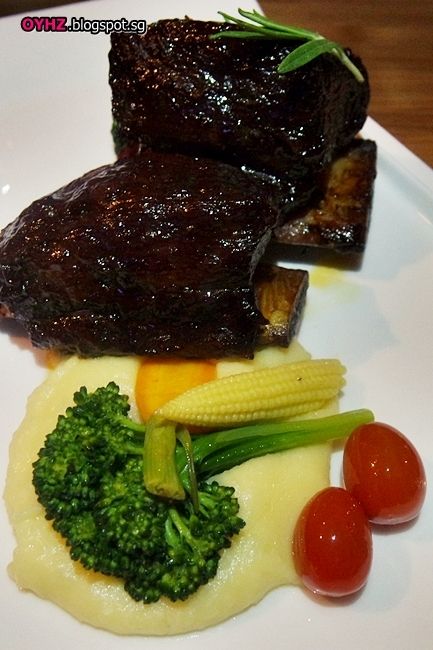 This beef short ribs were sous vide for 24 hours making it so tender and juicy. The insides of the ribs remains pink and the meat so succulent.
Tiramisu Semi Freddo $12
Semi frozen mascarpone cheese layered with coffee liquer jelly psonge topped with milo crunch and tuile biscuit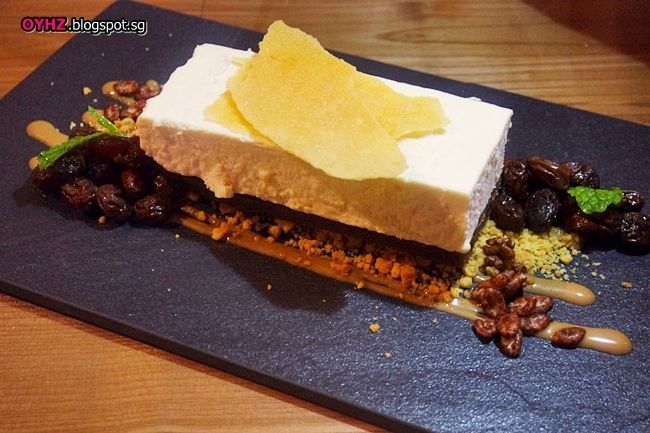 Not the first time having semi-freddo dessert, but it's my first having a semi-freddo version of tiramisu. It went well, especially with the fat, juicy raisin infused with brandy.
Salted Egg Yolk Custard Molten Chocolate Cake $14
Warm chocolate cake with melting salted egg yolk custard in the center served with vanilla ice cream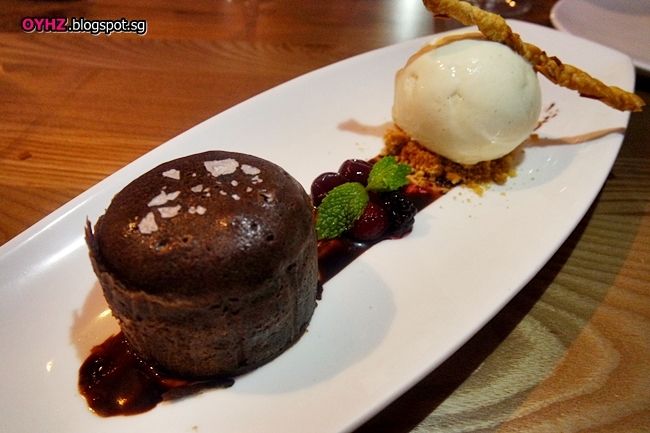 Another of my favourite for the evening. Chocolate lava cake that oozes salted egg yolk is simply divine!
Sunrise Bistro & Bar
902 East Coast Parkway, Playground @ Big Splash, Block B #01-05
Mon - Thu: 11:30am - 1:00am
Sat & Eve of Public Holiday: 9:00am - 2:00am
Sun & Public Holiday: 9:00am - 1:00am
http://sunrisebistrobar.com/