Alfero Artisan Gelato – Singapore
6 Raffles Boulevard 02-226A/B
Marina Square Singapore 039594.
Monday to Sunday 12:00 to 22:00
Cafes have been popping up all over Singapore in recent years; but we all have heard a number of cafes closing down at the same time – due to lack of flavor (both the food and concept). Setting up a F&B business is never easy, what's more with required constant efforts in maintaining the fundamental gist of the business – the food. Nonetheless, as much as competitive is still tough, Alfero Artisan Gelato proved itself with quality gelato and steadfastly expanding over these years. Other than that, gelato is also much less sinful than their ice-cream counterpart!
Alfero Artisan Gelato believes that everyone deserves to enjoy a great Italian gelato made as it should be.
"This is not just a business, but also a lifestyle philosophy - offering and rediscovering the taste of authentic Italian products such as gelato, without sacrificing quality. Alfero Artisan Gelato conforms to a philosophy based on taste and an unforgettable customer experience. We consider that "what we put inside our body" is far more important of what some people think, and that taste and quality matters!"
Ex-colleagues and I used to pop by their gelato outlet at Marina Square for a convenient lunchtime perk-me-up ;) However, we usually have the common safe choices such as mango or lime flavours. The recent tasting session (with
Mia
,
Finaldust
,
Hazel
and
Janel
) allowed us to indulge in more flavours and also got to know Marco Alfero, the originator of the gelato from Italy. We hear stories of how he became "localized", coming in touch with ingredients in one of their rawest forms (read, Gula Melaka cubes?) to formulate new gelato flavours and met him personally relishing his own creation in the cafe with his family and friends on that weekend. When a chef appreciates his own food so much, you can be sure he had placed his 100% in cooking it – and this applies the same to a gelato artiste.
"Alfero Artisan Gelato aims to bring to Singapore the real experience of homemade Italian gelato produced with the best quality of imported ingredients and freshness and taste guaranteed. It is designed and catered to the market with a whole unique taste of authentic Italian products with quality assured."
*credits Molly-Mia
The 11 flavours from top right, in clockwise direction:
(Cup-left) Bacio, (Cup-right) Dark Chocolate, (Cup-back) Yuzu, (Cup-front) Strawberry Milk, (Cup-left) Walnut, (Cup-right) Pistachio, Mango, Durian, Avocado, Passionfruit, Lemon.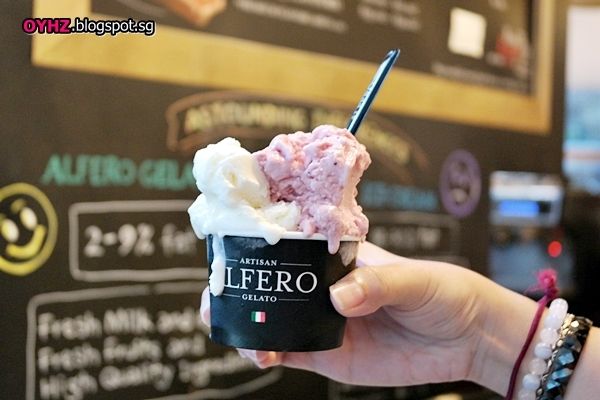 My personal favourite out of the lot is still mango ;) There is not even a microscopic hint of any artificial mango flavourings unlike most other mango ice-creams or gelato. I also enjoyed other fruit flavours for alike reasons i.e. the durian, avocado, and yuzu. The tangy zest of the yuzu refreshes your mood instantly.
If you're looking for something more "filling", try the durian or avocado which is denser, smoother and more velvety in texture. The durian one actually contains real fruit flesh! Again, no trace of artificial flavourings at all.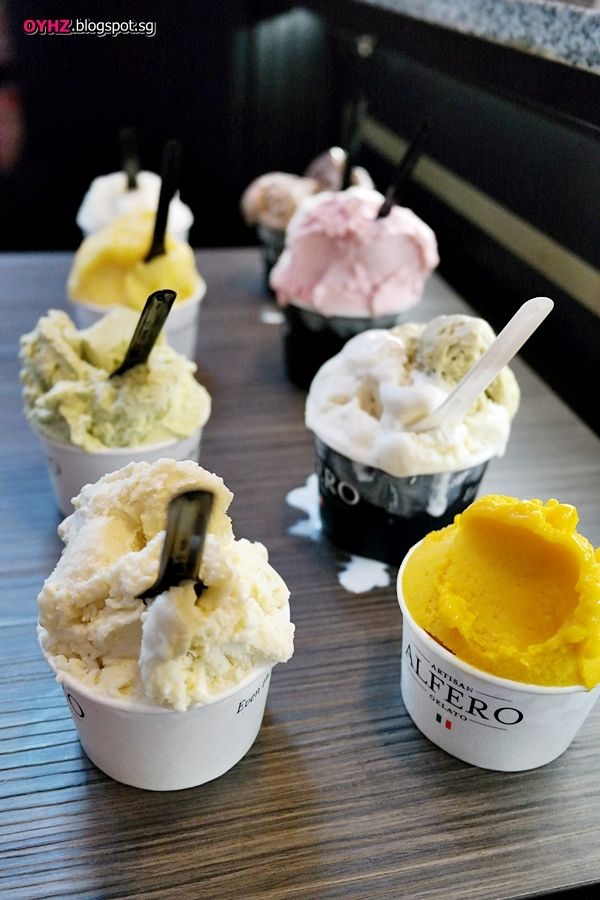 If you would prefer something over the sorbets, try the Bianco! It is chocolate with hazelnuts – similar to other gelato brands' "Tartufo" or "Ferrero Rocher" flavour. That should be an easy choice to make for the kids especially. For adults, you will not go wrong with pistachio is you would like a more unique flavour. The pistachio gelato is so surprisingly fragrant that the few of us finished that flavour very soon!
Chendol Gelato Waffles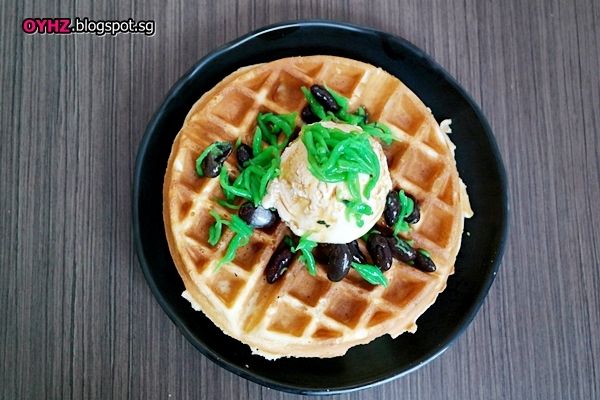 This innovative flavour is specially created by Marco Alfero to cater to the locals. The gelato only has a slight hint of Chendol, which personally I would have prefer it to be stronger. The waffle is pretty soft and fluffy.
Brownie with Snow White Gelato
One of the perfect food combination in the world - brownie with ice-cream.
Snow White is Alfero's milk flavoured gelato and its smooth, velvety texture complements the dry, crumbly brownie flawlessly.
For those looking for afternoon tea, Alfero Artisan Gelato also offers a small selection of coffees and teas. Do check out the menu or enquire with the staff when you're there :)