Hello! Been less active on social media these days because I'm so swamped with stuffs. I still update my IG (and fb sometimes) but don't have time to look through comments or emails every so often.
I believe that's what many of my fellow blogger friends feel – we all have to handle our day jobs, family and friends, relationship, other commitments be it faith activities or side jobs or businesses, blogging hobby and events, and queries from readers.
Looking at it all, it's no wonder we spend so much on retail therapy lol, especially from online sites. Online shopping takes less time and effort to deliver the same kick of retail therapy. Plus, it matches to our schedule, allowing us some "me-time" in the wee hours or shopping even after the malls close.
Now even so when the Christmas season is nearing!
Referring to one of the usual sites I would browse, I saw something that makes Christmas shopping/retail therapy even more awesome.
Christmas SALES online!
"Don't feel like squeezing with everyone else to get your shopping done? Take your shopping spree online! ZALORA offers a range of irresistible Christmas gift ideas, promotions and deals to make your Christmas shopping a little merrier.
Now there's reason to be jolly."
http://www.zalora.sg/christmas/
On top of that, there is 20% discount off Zalora's exclusive brands now.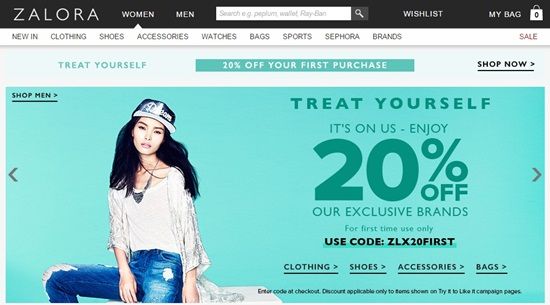 Some of the items on my wishlist:
I'm a lil' crazy about clothings, so there were tons of dresses that caught my eyes!
ZALORA
Layered Luxe Dress
49.90 SGD
NOW 35.00 SGD
Blue Layered Luxe Dress from EZRA by ZALORA features a classic fit and flare design, complemented with stylized slit on the front. This wear-anywhere dress channels full-on chic vibes, keeping it effortlessly classy without losing out on style.
NEW LOOK
Blue Sleeveless Ditsy Floral Skater Dress
39.90 SGD NOW 31.90 SGD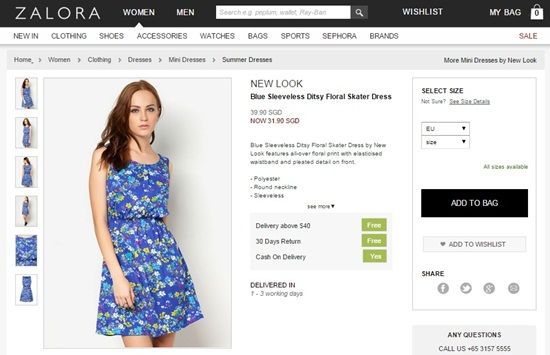 Blue Sleeveless Ditsy Floral Skater Dress by New Look features all-over floral print with elasticised waistband and pleated detail on front.
SOMETHING BORROWED
Sided Shoulder Dress
24.90 SGD NOW 20.00 SGD
Red Sided Shoulder Dress by Something Borrowed features a form-fitted design that will accentuate your figure with an effortless touch.
SOMETHING BORROWED
Layered Lace Dress
34.90 SGD NOW 17.40 SGD
Black Layered Lace Dress by Something Borrowed features mesh detail at the shoulder and a visible silver inner lining. Add this dress to your ever-ready army of LBDs.
Not just fashion, there is even discount for the popular SKIN INC products!
What's more with additional $20 voucher when you spend above $100.
SKIN INC
Get Awesome Skin - Get Glowin' Set
SGD 120.00
Get Awesome Skin Brightening Set by Skin Inc promises visibly brighter and clearer skin with this 5-piece customizable collection. Suitable for all skin types. Follow the Skin Inc award-winning 3-Step regime of prep, nourish and hydrate for brilliant results.
- Banishes dullness by gently removing dead skin
- Repairs skin with AC-11
- Infused with Fullerenes as anti-oxidant
Inclusive of all-in-one mask which hydrates, clarifies, brightens and boosts cell renewal
An all-time popular brand - SKII has its christmas specials on Zalora too.
Aura Glow Festive Set
SGD 532.00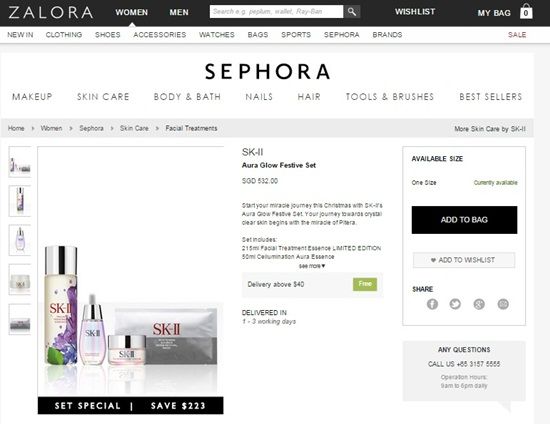 Start your miracle journey this Christmas with SK-II's Aura Glow Festive Set. Your journey towards crystal clear skin begins with the miracle of Pitera.
Set Includes:
215ml Facial Treatment Essence LIMITED EDITION
50ml Cellumination Aura Essence
50g Cellumination Deep Surge EX
1 x Whitening Derm Revival Mask
Now, with great skin and lovely clothings, we need some accessories too!
I'm sure many of us have seen this Hong Kong brand - Salad - but never quite taken a good look.
For myself, I always enjoy visiting this brand's stores whenever I'm in Hong Kong or Taiwan. Their bag designs are so fun, and young, with great materials to boot.
Or, if you're jetting off to somewhere for the holiday season, get a trusty luggage from American Tourister.
Some of the classic models are going at 40% off! What great deals!
x