DING TAI FUNG
Went for Ding Tai Fung xiao long baos (dumplings), a delicacy bestowed with one Michelin star in HK! Chose to visit the branch at Taipei 101 cos that was where Tom Cruise went to learn how to make dumplings when he was in Taiwan promoting his movie haha!
Having tried Ding Tai Fung in Singapore and Bangkok, I find that the Ding Tai Fung in Taiwan's taste more similar to Singapore's. However, small details such as the fragrance of the vinegar, the fried rice and fresh crispy spinach makes the standard of Taiwan's Ding Tai Fung slightly better.
Having said that, I feel that there is no need to queue for Ding Tai Fung at the originating place (Taiwan) if you can enjoy it easily in your home country.
Save the time/tummy for other sight-seeing/restaurants :D
Ding Tai Fung 鼎泰豐 @ Taipei 101
B1F., No.45, Shifu Rd., Xinyi Dist.
台北市市府路45號B1(台北101購物中心)


Our hotel was a mere 5 mins walk from Ximending MRT station.
From Ximending, take the Light Green line towards Taipower Building station and change to the Red Line at Taipei Main station. Take note to change to the train going towards Xiangshan station and alight at the 5th station - Taipei 101 World Trade Center station, exit no 4.
The entire journey took about 20-30mins.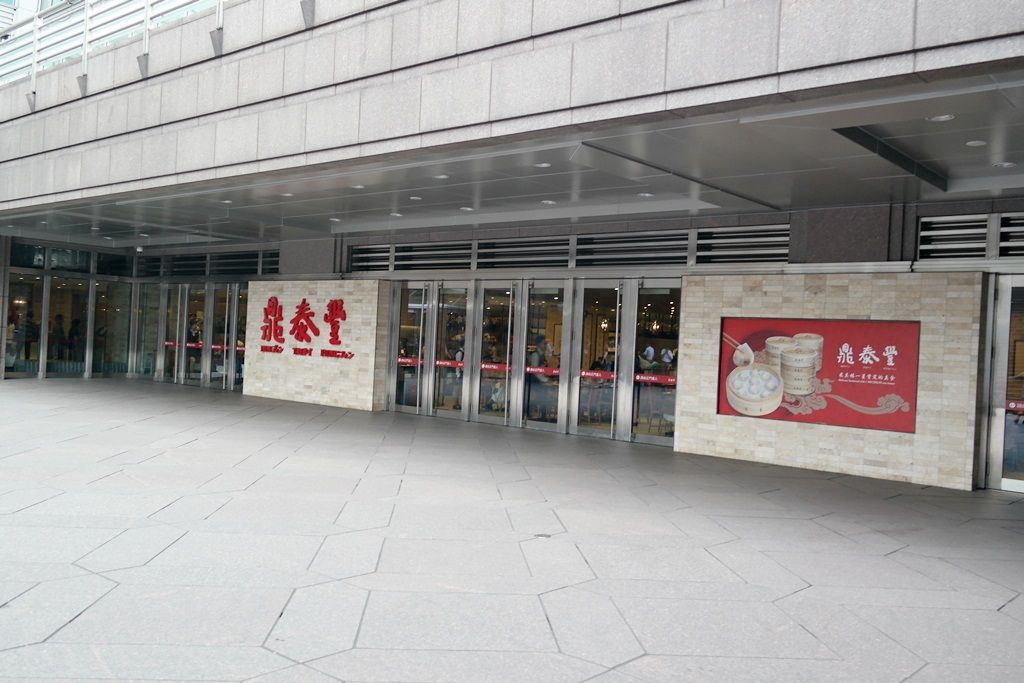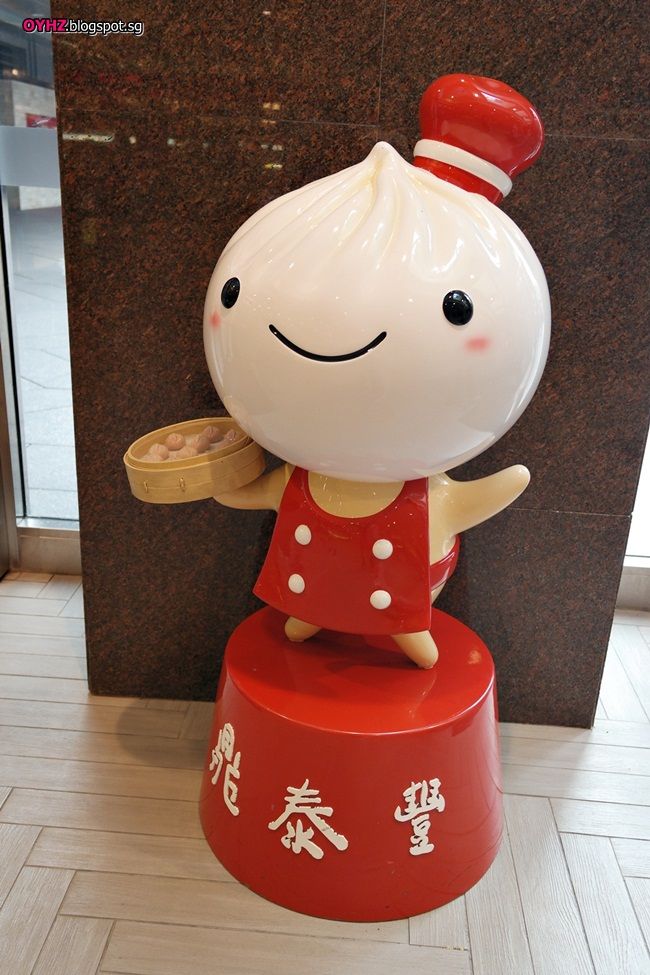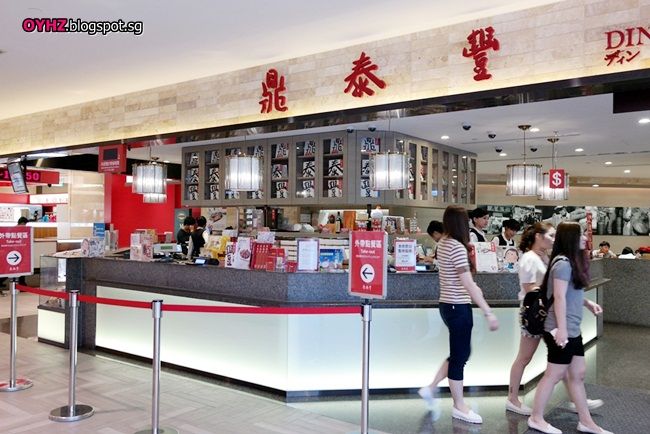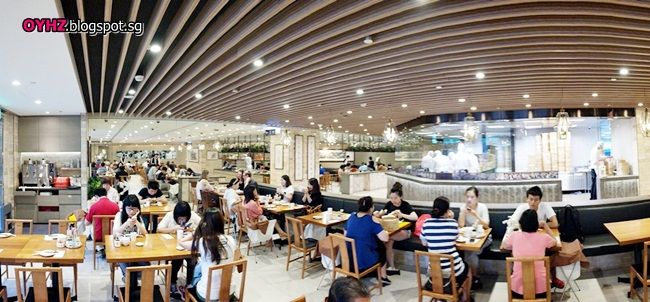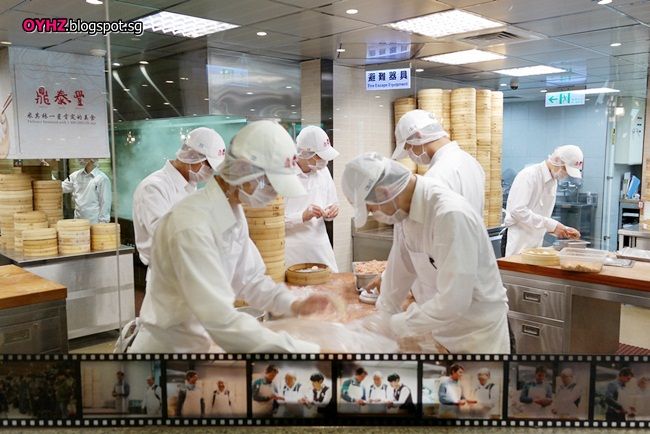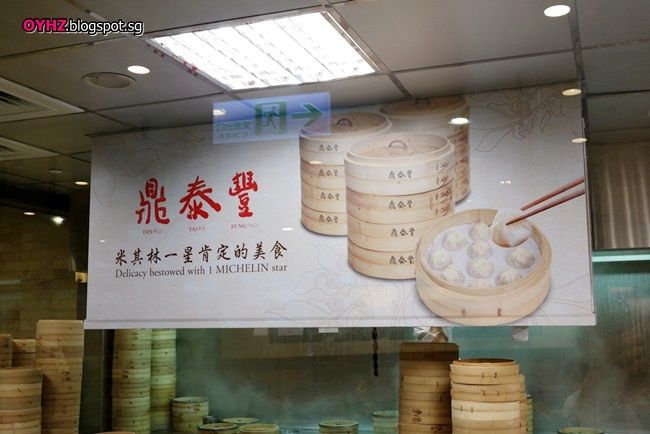 Cold dressed fungus
(TWD90)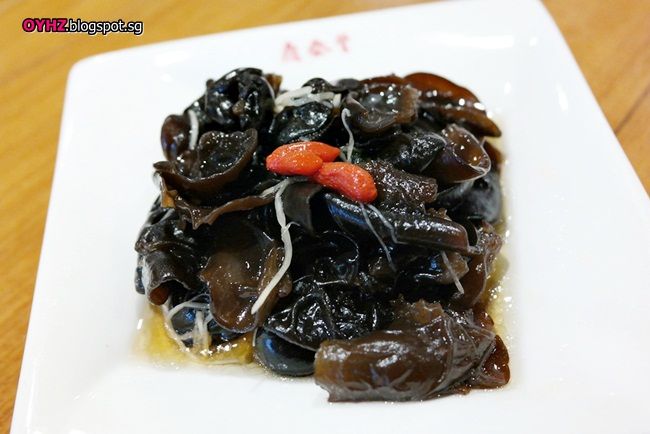 Steamed Crabmeat Dumplings



The favourite 小笼包!
Steamed Pork Dumplings
(TWD100)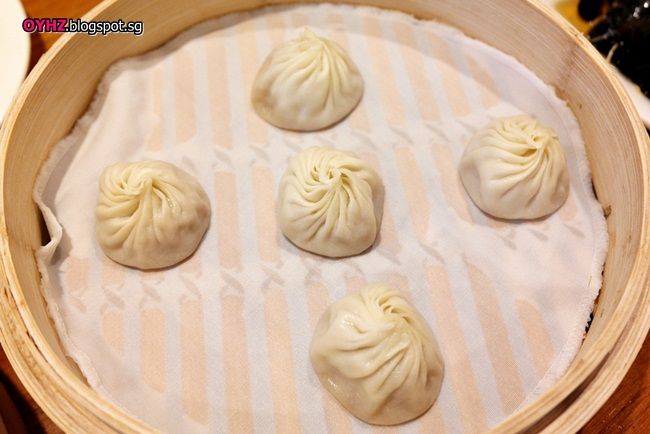 Shrimp and Pork Wonton Noodle Soup
(TWD160)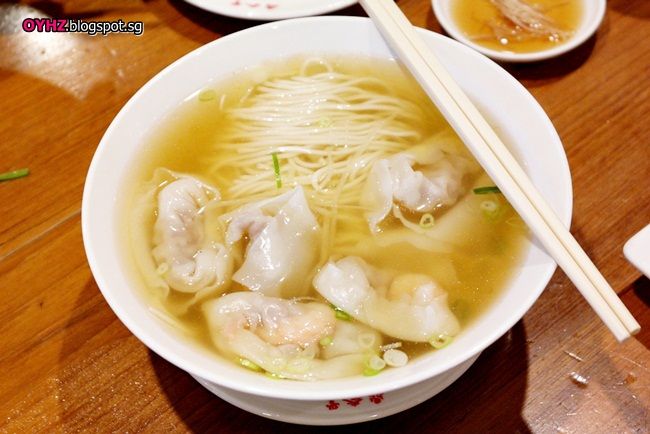 Special Braised Beef Noodle Soup with Beef Brisket
红烧牛肉汤面
(TWD220)

Succulent juicy meat with noodles immersed in a bowl of flavourful soup – indeed a hearty meal on its own.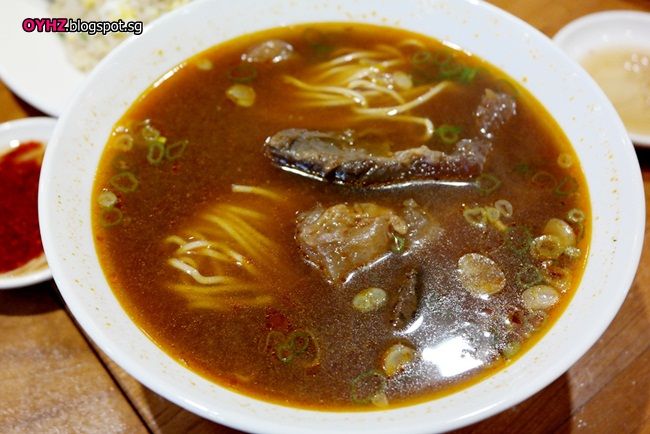 Fried Rice with Shrimps & Eggs
虾仁蛋饭
(TWD200)

An extremely popular dish, the ingredients are pared down to simple rice, shrimps, eggs, and spring onions, creating a taste of familiar comfort. Each plate is of a certain weight and minimal seasoning is used so that the natural fragrance of the eggs and spring onions shines through.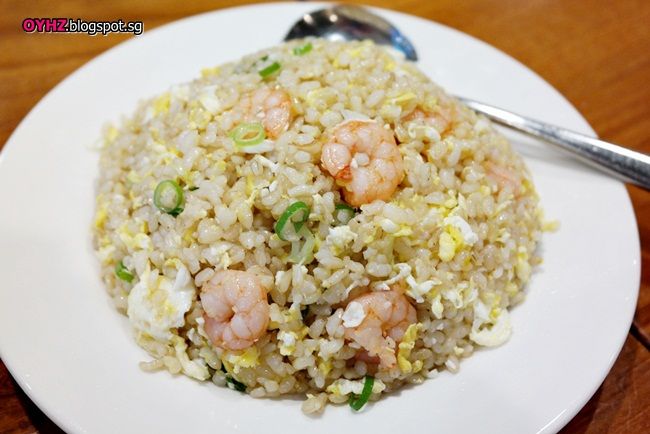 Stir-fried Spinach with Garlic
(TWD70)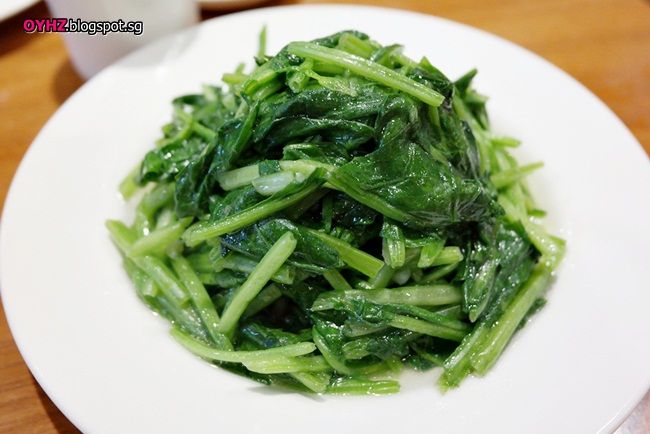 TAIPEI 101
A pretty macaron stall outside Ding Tai Fung.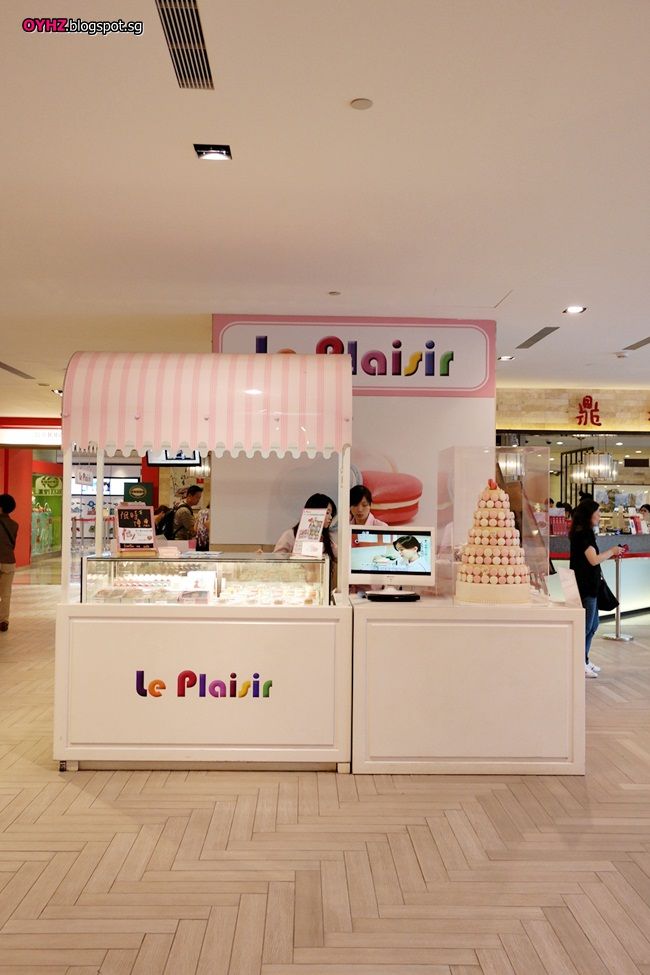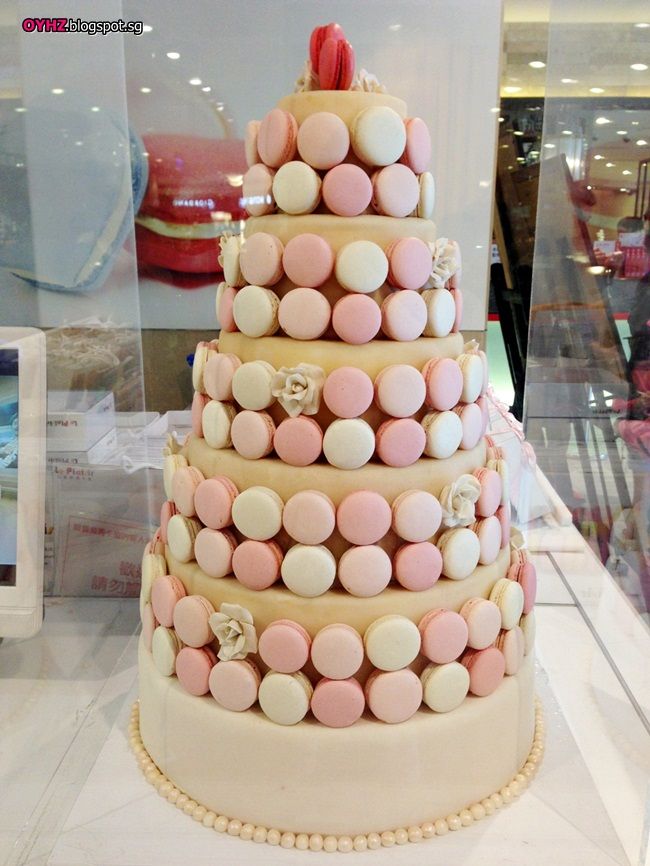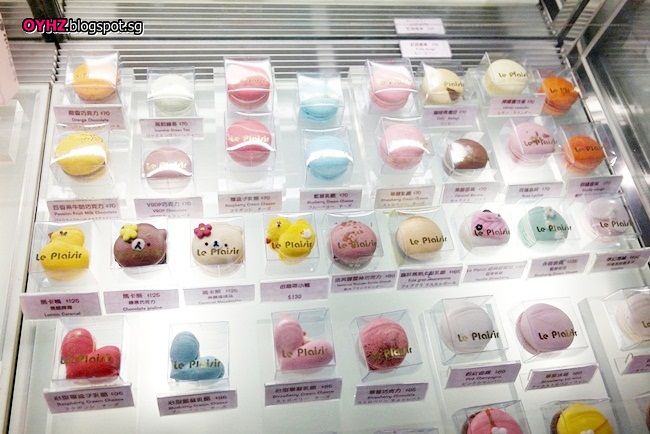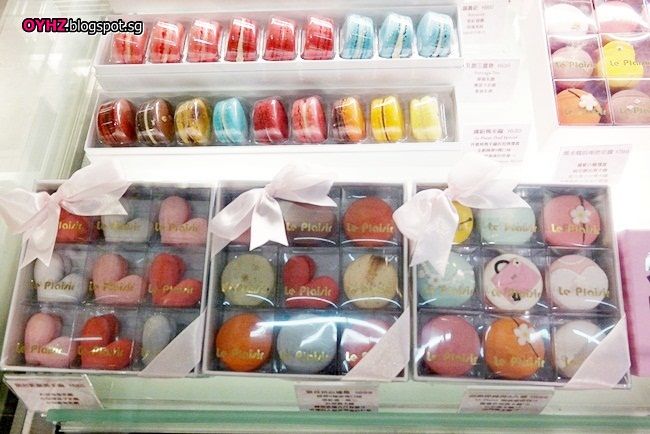 Had wanted to enter the observatory, but it was swarmed with several batches of Mainland tourists thus we skipped it due to the crowd/queue.
Admission Fee is at TWD500 (SGD22) for adults and TWD450 (SGD20) for children under 12.
Shopped around various boutiques like Chanel, Dior, Prada and Miu Miu, but these boutiques were too, swarmed with mainland tourists. It makes it a little difficult for us to get the attention of the limited number of sales assistants, which dampened our shopping moods slightly.
The product selections are about the same as in Singapore, though prices are slightly cheaper in Taipei boutiques (5-10% cheaper, depending on which brand you're looking at) with tax refunds and "tourist discounts".
Went back to Ximending for some casual shopping and more food! :)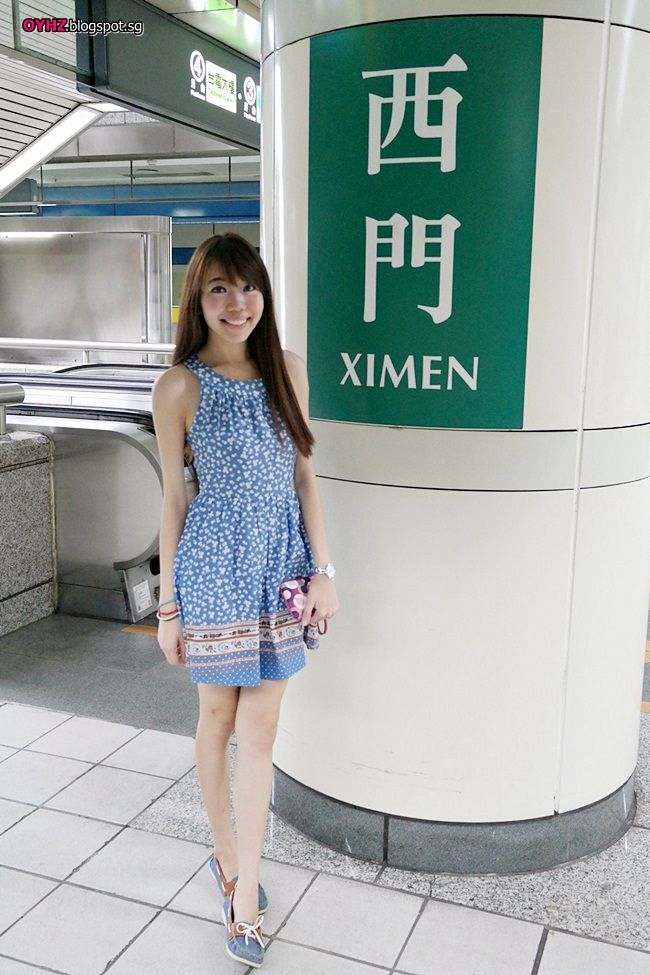 Clothings - Mainly imports from China Guangzhou. Prices are not cheap, considering an average, brand-less dress that is priced at S$35 in Ximending, it may cost only S$25 in Wufenpu or S$15-S$20 in bangkok and S$10 in GZ. So you get the drift ya.. ;)
Besides that, there are also some regional/international brand stores which stock new season selections at good prices.
Shoes - Comfy and very reasonably priced. Usually their promo goes at "Buy 2 for TWD500" (S$11/pair), "2 for TWD700 (S$15/pair), and etc. So be prepared to get an even number pairs of shoes or simply chat up the friendly local in the store and share the promotion with her :)
Street food - One of the things I love best about staying in Ximending. Some of the street food stalls there open til past 1am and we were able to get hot, yummy snacks for suppers at ungodly hours! Think juicy fried mushrooms, 甜不辣 fries/potato/sweet potatoes and such :p
The famous Ah Zhong mee sua is also located conveniently at Ximending. Shall touch more on that in another post!
Cafés and restaurants are also aplenty. Those who like Korean BBQ will rejoice! I'm not one, unfortunately, due to the fear of the BBQ smell on my clothings and hair :p For people like me, be rest assured that there are other places and several themed cafés and restaurants in Ximending to visit - one of which we visited on the same night - see the details below! :)
Skincare
- Korean beauty brands are littered around Ximending which is great convenience for ladies looking to stock up on their skincare and makeup products. Of cos the pricing in the TW stores wouldn't be able to match their Korean-counterparts, however they are still much lower than in Singapore! For instance I bought the Innisfree Super Volcanic Clay mask 100ml set (comes with toner and facial wash) for only TWD500 (S$20ish) whereby it would have already cost me $21 for the mask alone in Singapore.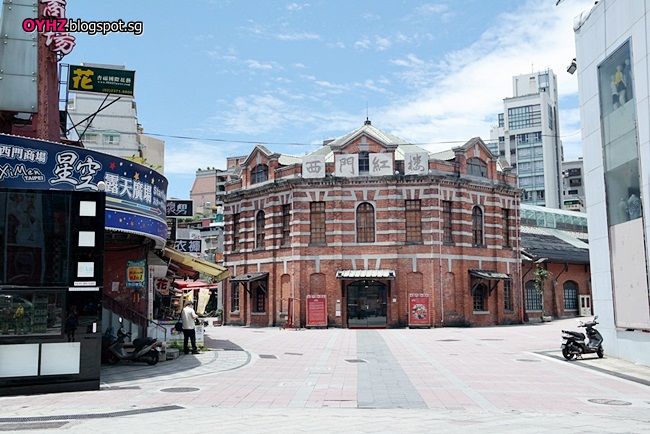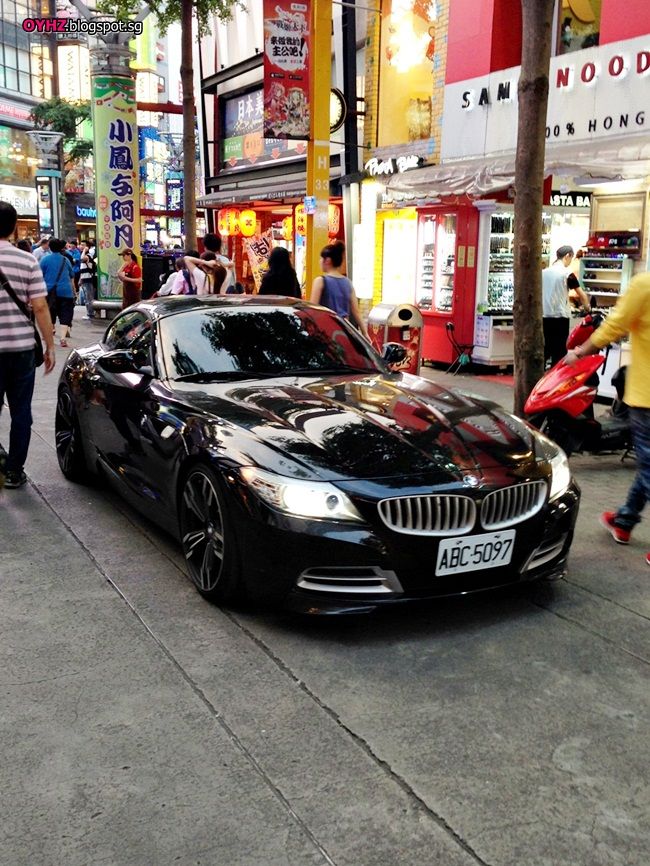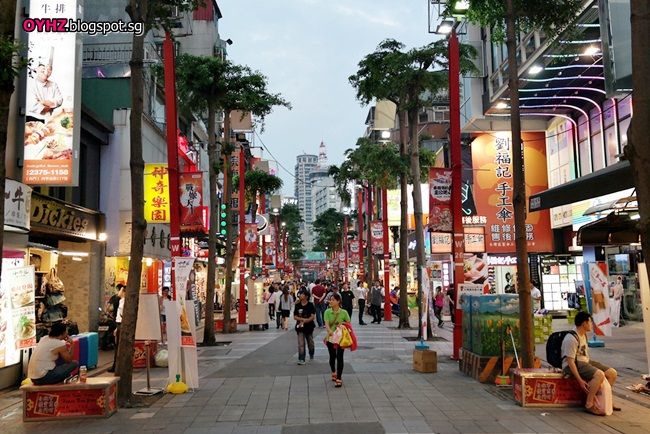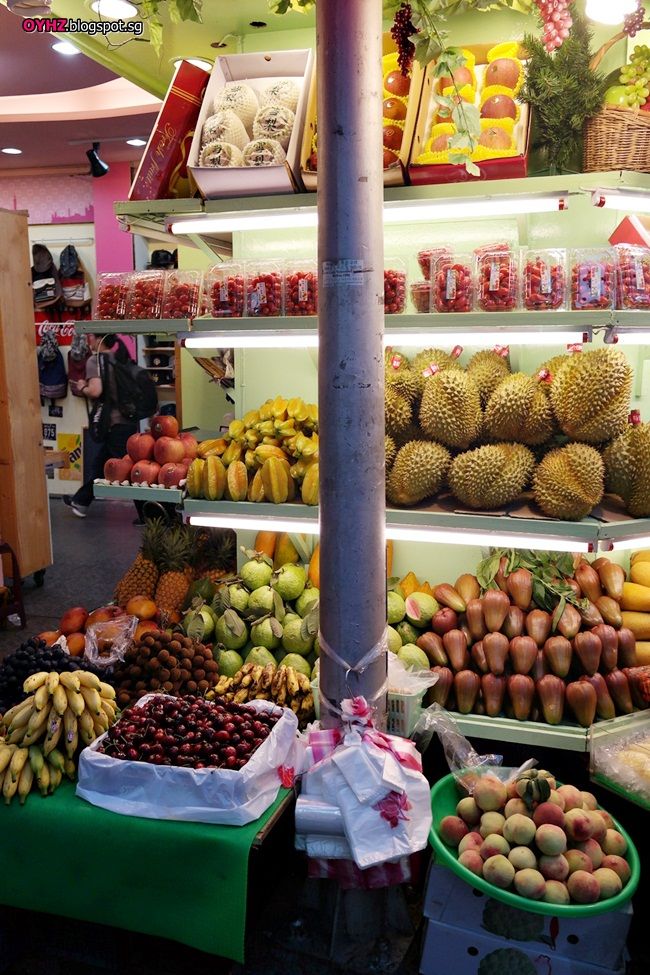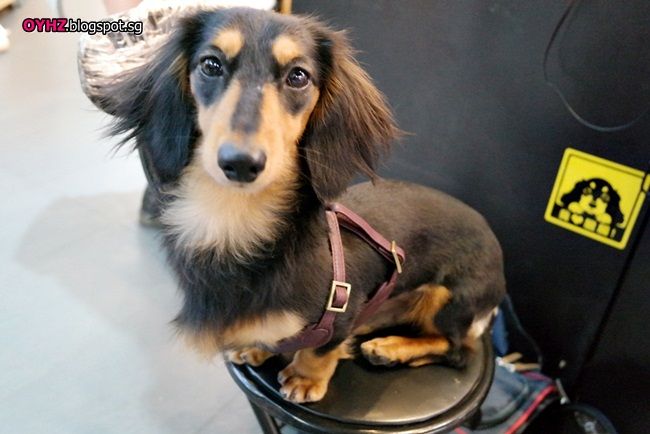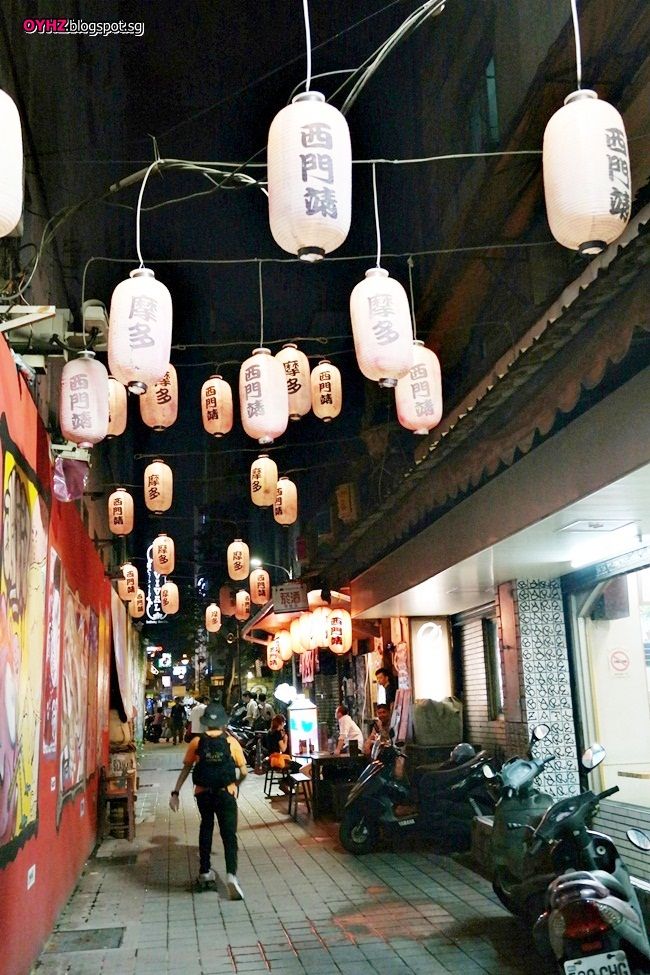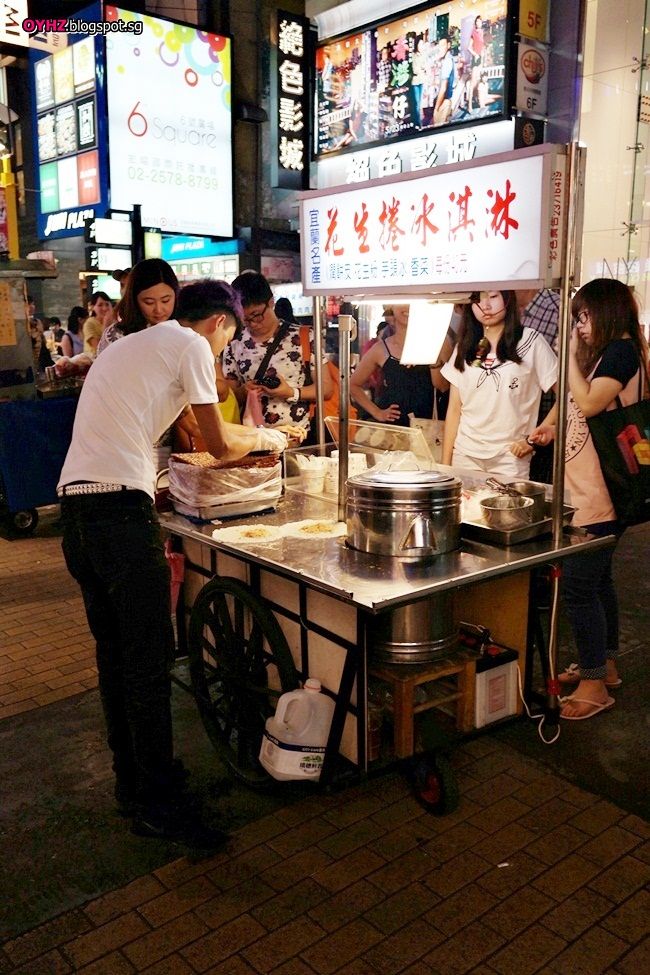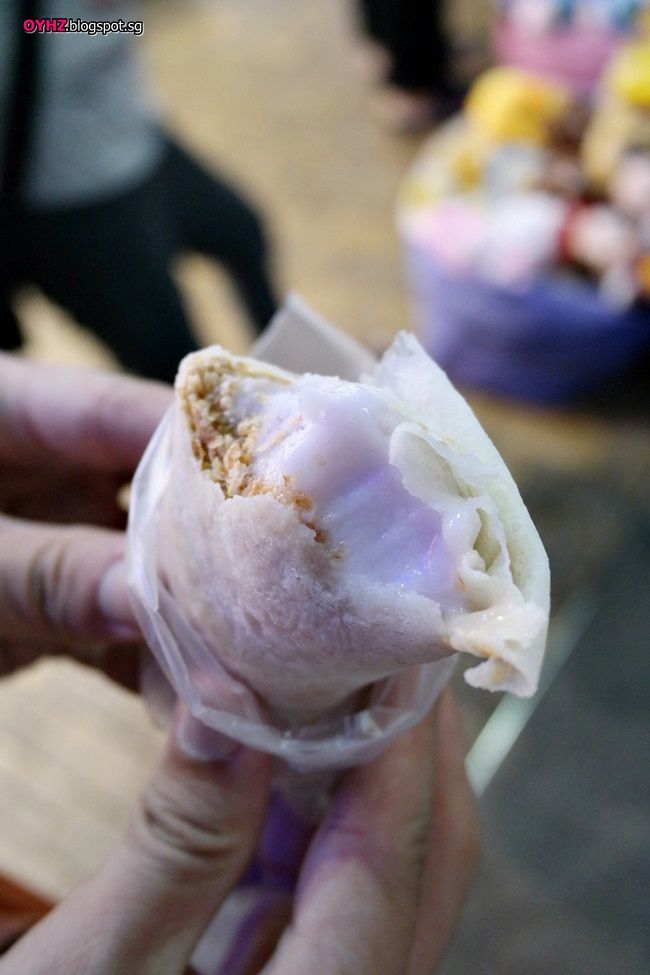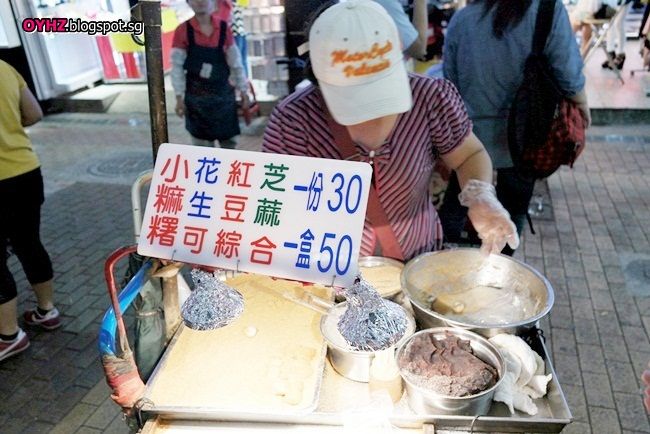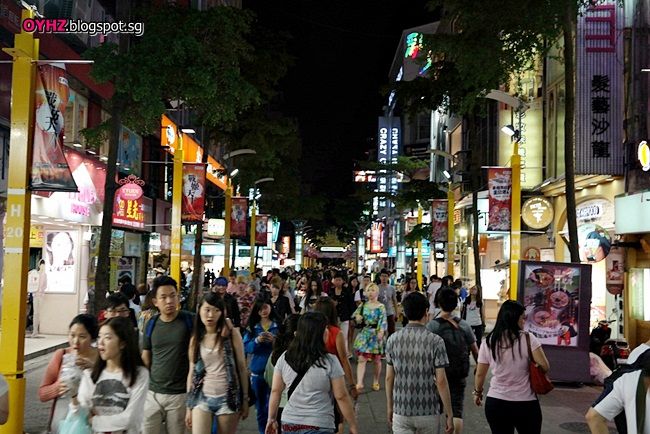 Modern Toilet Restaurant @ Ximending
2F., No.7, Lane 50, Sining S. Rd., Wanhua District, Taipei City
http://www.moderntoilet.com.tw/en/about.asp
We have heard that the standard of food is only average. But we still went ahead to try out this famous themed restaurant!
The theme may be a lil' disgusting for the sensitive - honestly, I couldn't take it at certain moments and had to distract myself lol. Food-wise is okay, and pretty cheap with set meals (main course, drink and dessert) available at TWD230-300 (SGD10-13).
Minimum spending per pax is TWD90 (SGD4).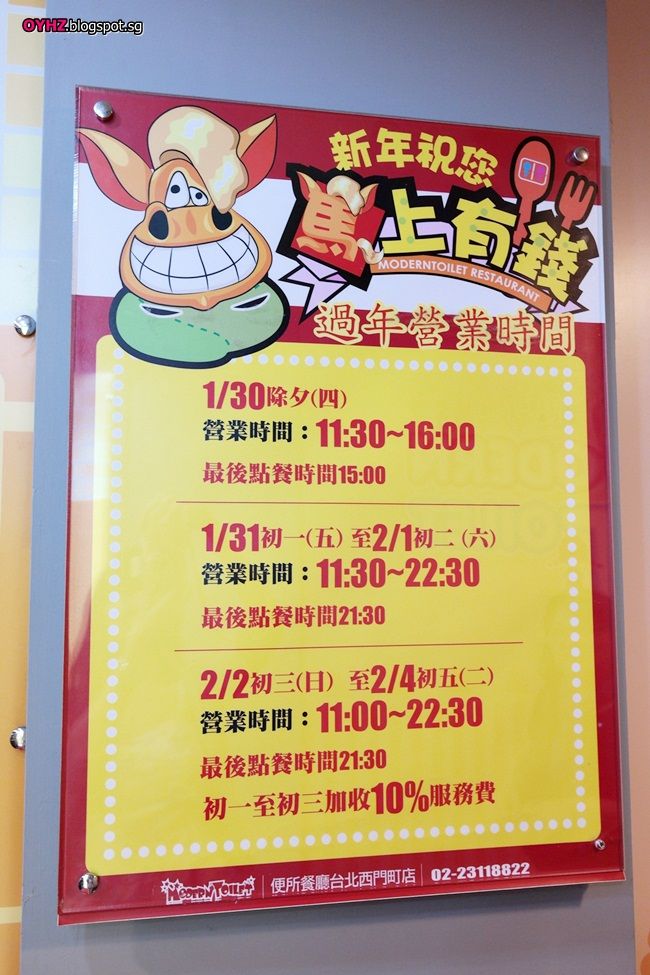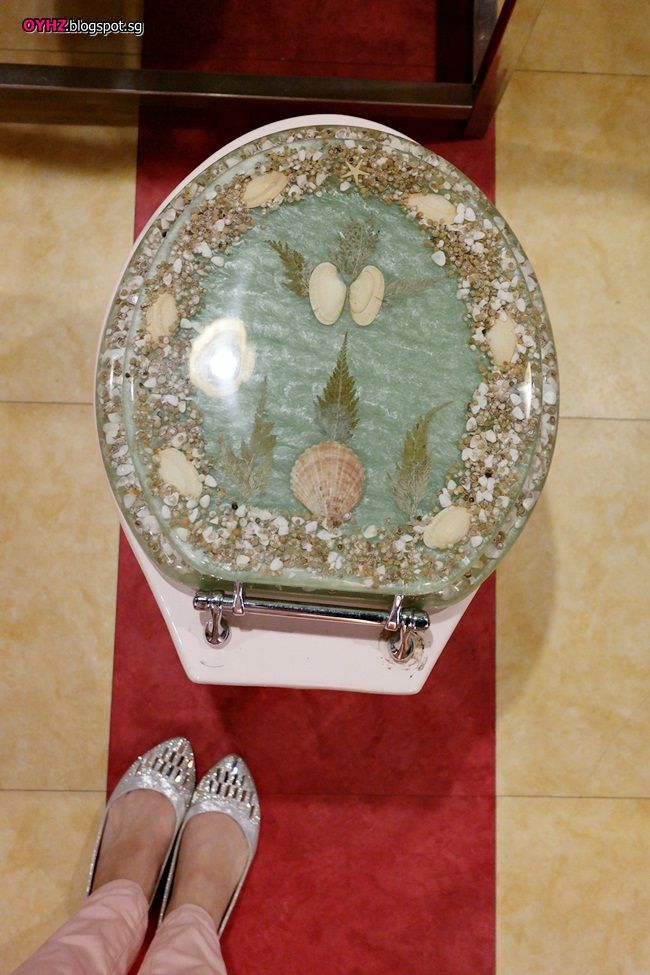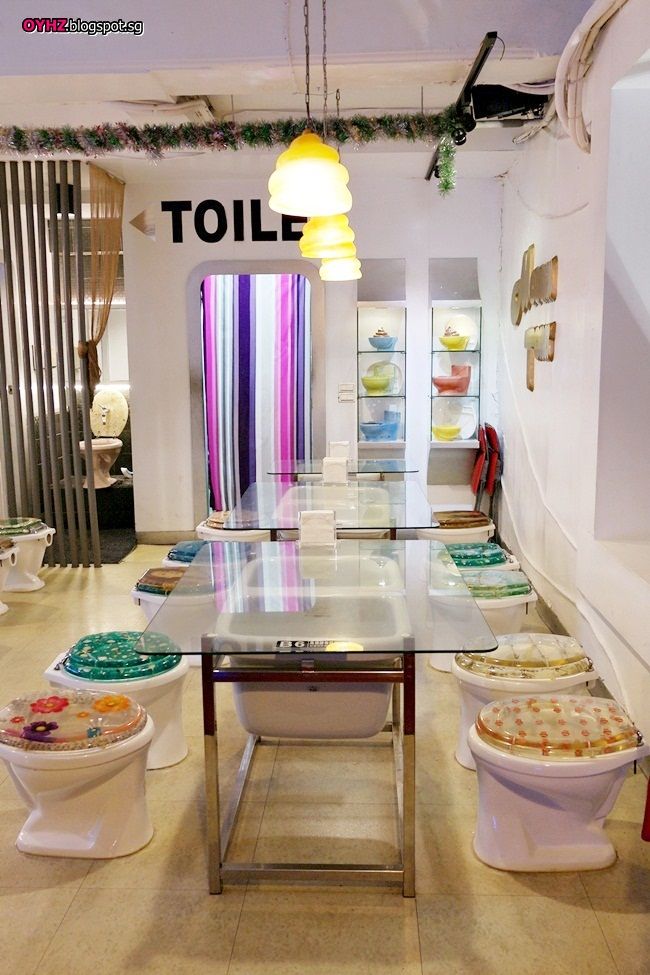 The following is a hand basin!
(Would you feel cleaner without washing your hands? lol)


Summary of the menu.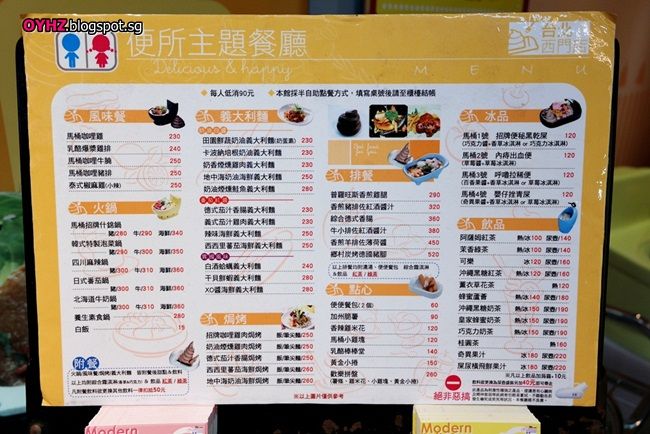 Soup of the day: Mushroom soup!
It came free with the set meal we ordered. And this is the most normal-looking item served that evening, lol.



Okinawa (冲绳) Black Sugar Red Tea
TWD120

It came in a 'urinal' as seen below. If you want, you may 'upgrade' it to a urinal bottle at additional charge of TWD40 and take-away the bottle after the meal.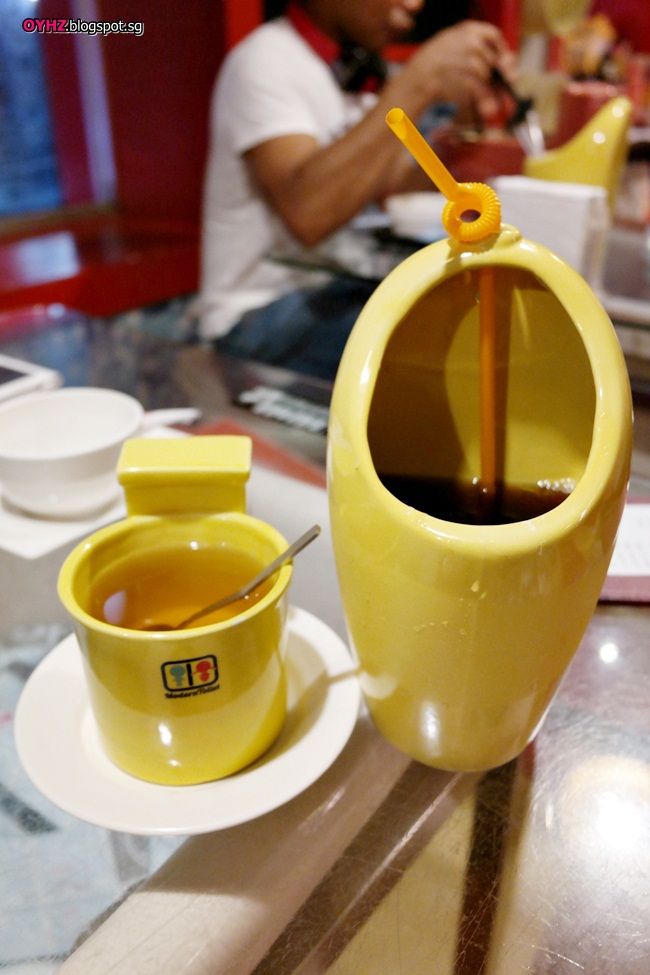 Awkward. Rofl.
But the tea was quite yummy! A chilled drink after a long day of travelling is a great perk-me-up.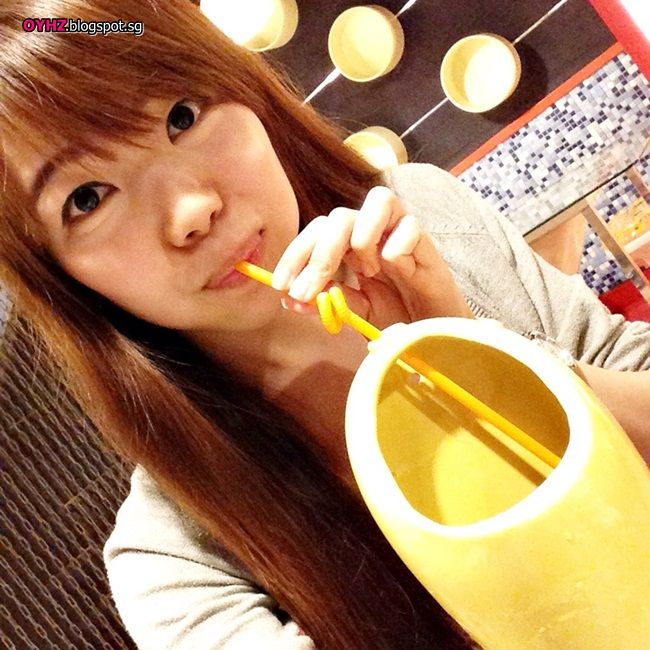 Mediterranean seafood spaghetti in cream sauce
TWD250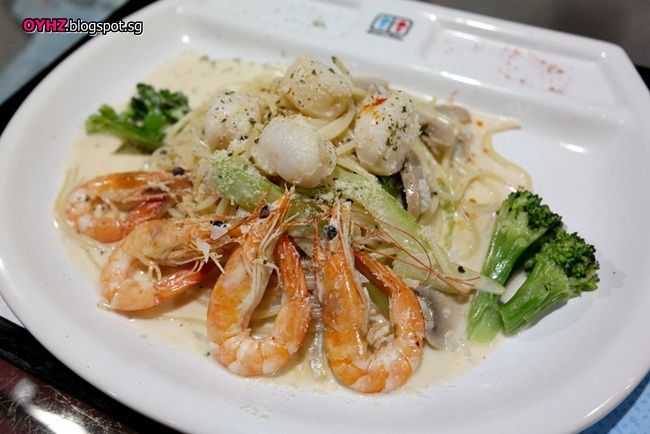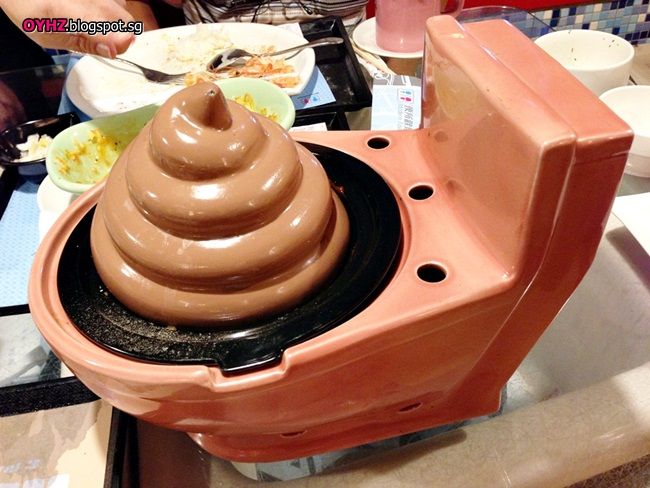 Cheesy chicken cutlet rice served in a toilet bowl!
TWD240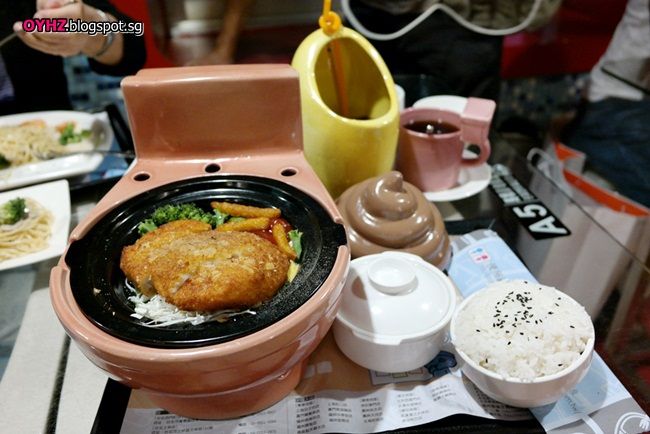 Tomato-base seafood baked rice
TWD260



If I remember correctly, this dessert is called Toilet Bowl No. 1 (Signature Constipation Black Shit) lol. I'm trying very hard to translate the dish names into English so that I can type them here! Quite literal translations, so pardon me :D
TWD120



Free chocolate ice-cream that comes with set meals.