So, I managed to try an amazing lip product recently -
bSoul Hydra Lip
- with special thanks to Herine for this sponsorship from Meditrina! :)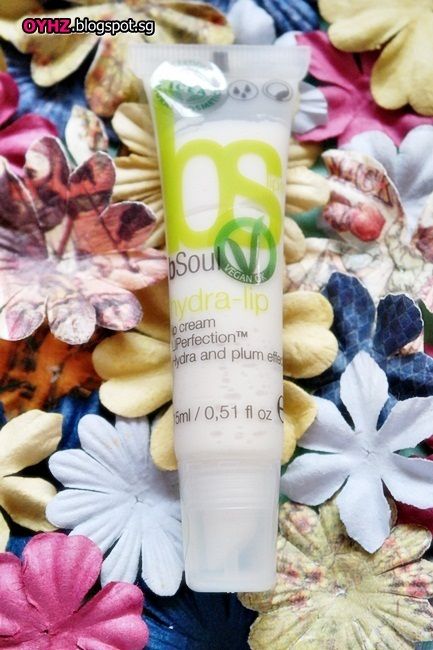 I was half-curious and half-skeptical while reading
Mia's review
some time back and decided that I really ought to try it for myself after she insisted that "it's very different!" haha ;)
If you're new to the bSoul products like me, here's a brief introduction to the brand:


"bSoul is the first eco-friendly phytoceutical cosmetic line rich in certified active principles. From nature, the performance of a natural but ingredient-rich line, which gives the best to the skin, while respecting the skin and the environment: both of them are a heritage to protect. This is the reason behind the decision to exclude the use of parabens, silicones, petrolatum, paraffin, SLES and of course no testing on animals.
bSoul skin care is truly certified by ICEA (Environmental and Ethical Certification Institute) and well received in Italy. "

***


I don't have severe issues with my lips usually, perhaps just a little chapped once in a while when I travel to a cold country or feel "heaty". However, I will welcome a good lip balm any time to prevent problems from occurring at all, especially the high risk of excessive drying due to prolong time spent in the air-conditioned environment (I work, shop, exercise and sleep all under air-conditioning).


The problem with the usual lip balms is that they form a synthetic film over the surface of the lips, causing us to think that our lips are properly moisturized? Such ingredients do not work any further than just the surface and may even cause our own body and skin to forget to function by itself! Otherwise, the lip balm will stay as a protective layer until your next meal or tea, or until you just decided to eat it up to get rid of that oily or waxy feeling over your lips.


On the other hand, the bSoul Hydra Lip is a lip cream that gets absorbed in almost in less than a minute! No more problems with ingesting your lip care product or having oily lips even in the early morning.

How to use?
Simply put on a sparing amount on both lips and rub them lightly against each other like you would do when putting on lipsticks, and viola! The cream is absorbed and your lips get moisturised in an instant.
1. Before the application


2. Immediately after the application


3. Massaging the cream into the lips

4. 1 minute after the application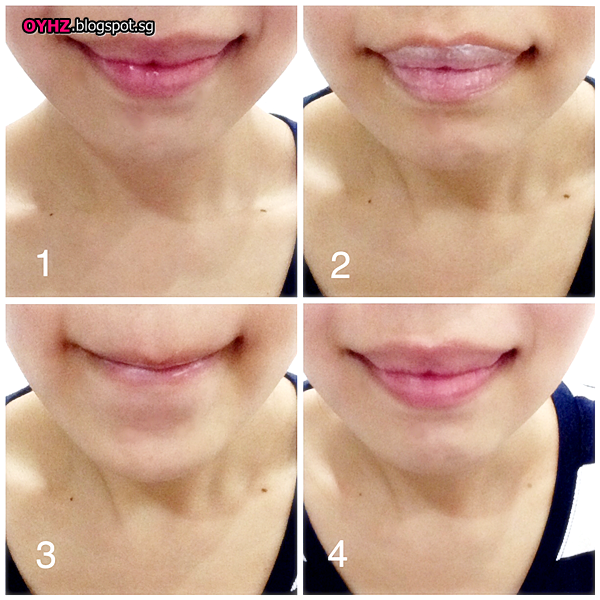 I didn't find flakes coming off as the cream is massaged into my lips. Probably cos like I've mentioned, I don't usually use lip colour that contains synthetic ingredients or silicon. If you do, worry not to find your lips flaking as it is simply getting rid of the "dead skin cells" caused by the artificial ingredients of your lip products.
However, if you're sharp, there's a red sore-like bump on my lips due to my body being heaty recently. I circled it in step 1 picture for your convenience. This red "sore" actually disappeared after I applied the lip cream. Amazing. It actually calmed down the sore, probably due to the active ingredients used? Or the moisturizing effect of the product simply aided it.
For those who put on lipstick on a daily basis, this lip cream preps your lips well and reduces any waiting time before the lip colour. Hence, great news if you're looking to shorten your preparation time before heading out every day.


Even for those who do not use lip colour like me, this lip cream moisturizes and reveals the natural nude pink tone of your lips, completing your makeup almost instantaneously.
It definitely served me well for my dinner recently :)
Key HuiZi10% for 10% off your Hydra-Lip purchase. Meaning you can get it at only SGD$46.80! :)
For online members, every $10 spent accumulates 1 credit point. Every 1 credit point offset $1 off future purchases!

***