Don't Tell Mama is a bistro that takes up residence at Tanjong Pagar, offering Korean-Mexican fusion. It is under the same group as Chicken Up, hence located side-by-side.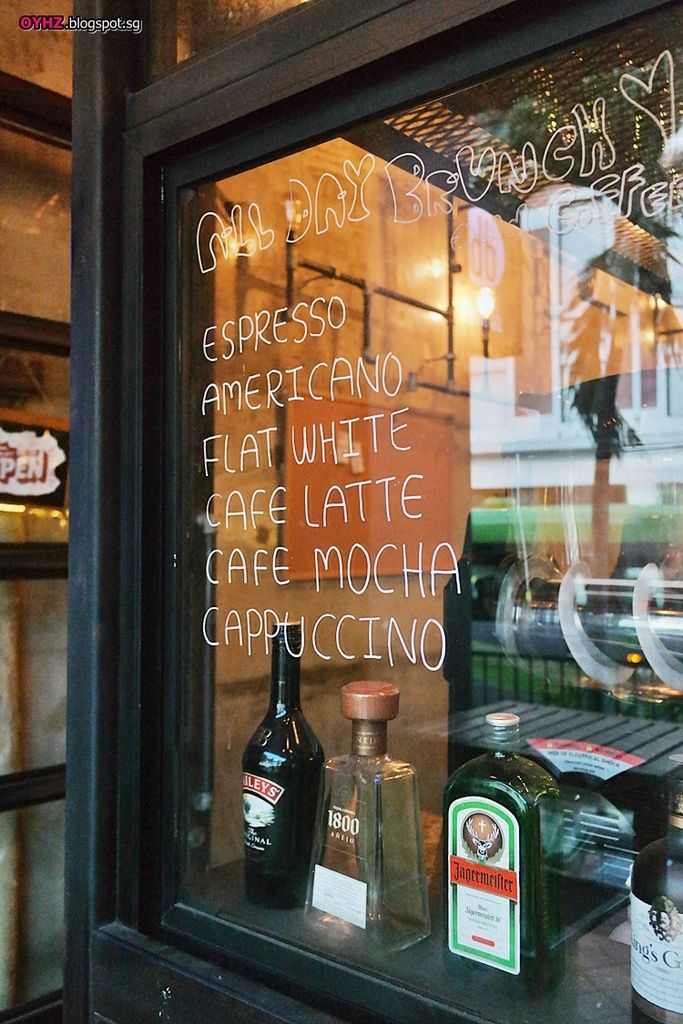 The industrial looking interior concept allows guests not to worry about dresscode – simply let our hair down and have fun!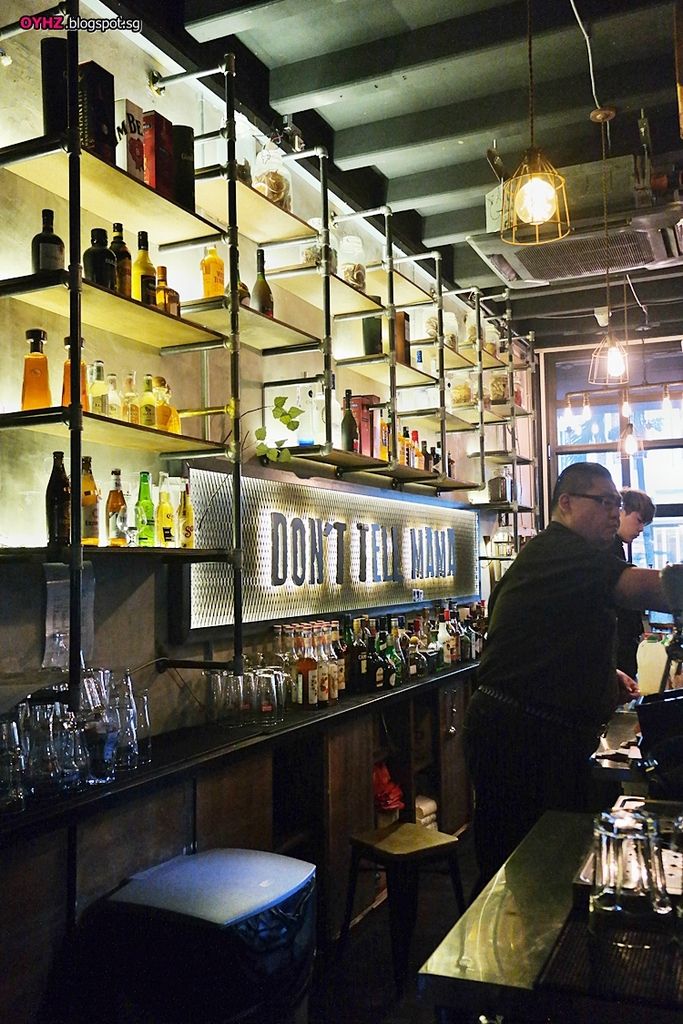 The colorful drinks caught my attention immediately. What's more with blinking mini-lightbulbs for the cocktails, enough to make most girls' hearts go thumping with delight.

To begin with, we had a few Frozen Cocktails $25: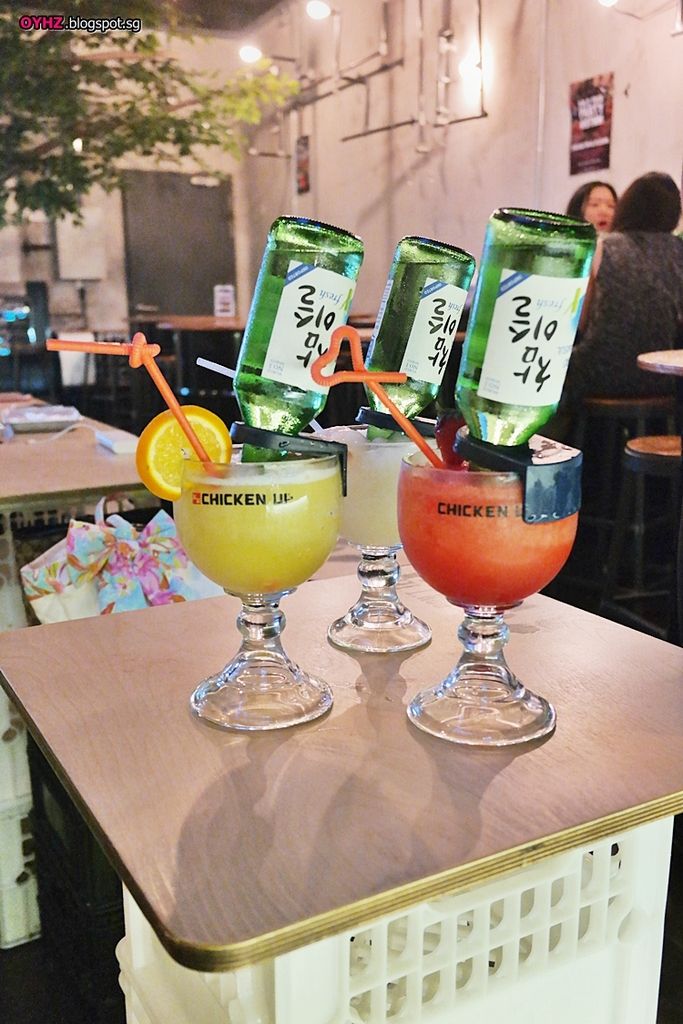 Left to Right:
Parcharita (Passionfruit, Mango and Tequila)
Lycherita (Lychee and Tequila)
Strawberrita (Strawberry and Tequila)
My favourite will always be lychee flavoured drinks, so Lycherita wins hands-down! The Parcharita was also good, with the tangy passionfruit and mango combi. We were able to control the amount of alcohol added to the Sojuritas, hence these drinks are suited for people of all 'alcoholic' levels.
Lightbulb Drinks (Soda $5; Juice or Smoothies from $6; Cocktails From $15)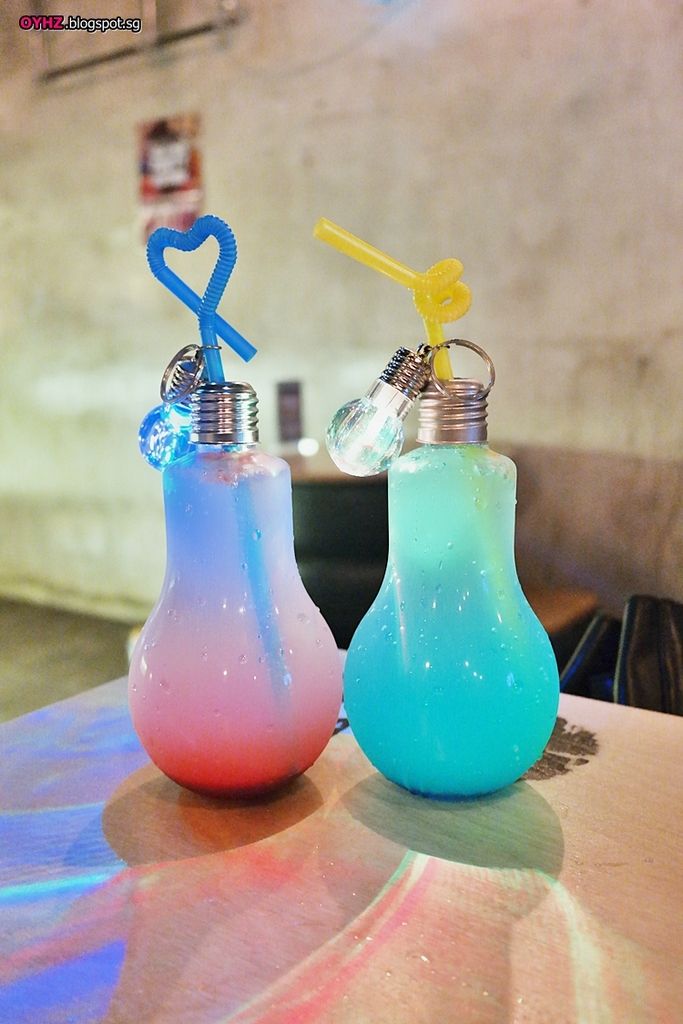 As we already have quite a lot of alcoholic drinks from the Frozen cocktails / Sojuritas, we decided to simply get the soda version for the Lightbulb drinks. Even though I usually avoid blue-colored drinks, the blue lemon soda was very refreshing and nothing like 'cough syrup' as I would usually expect blue-colored drinks to be :p The strawberry soda was great too. I guess this makes a perfect first-date drink, guys ;)
Now, let's take a look at the fusion menu they offer.
Nachos Cheese Omelette Pancake $8
A fushion of two of my favourite starters - nachos cheese and korean pancake, whoo!
The pancake is the soft, chewy type without any crispy edge or surface. However, pairing with the nachos gives it the 'crisp' texture immediately!
Kimchi Fries $18
Well, what can go wrong with fries? Nothing! The kimchi sauce was well-flavoured and topped with real sautéed kimchi and soy-seasoned shredded chicken. This goes right after my American-style beef chili-cheese fries in my 'Favorites' list :p
Bulgogi Quesadilla $14
Not sure if it was the beef, but I love this starter dish! It would make a good main course for one pax if you're there for 'proper' dinner instead of a mass drinking session.
Prawn Burrito $12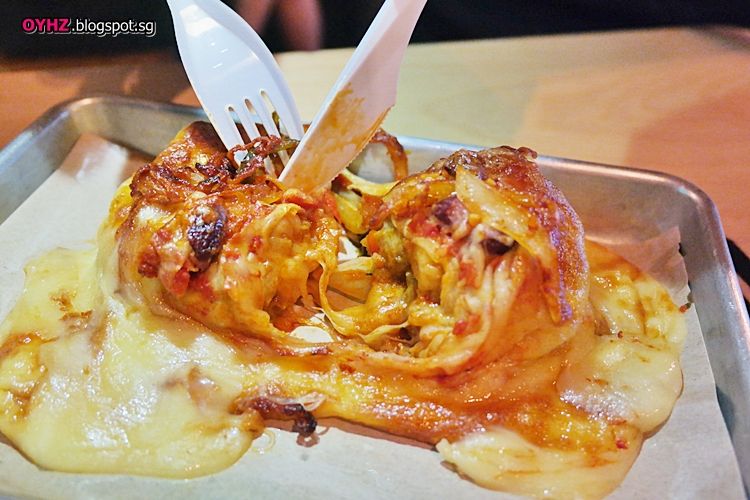 This doesn't seem like a typical burrito, but more towards prawn pizza wrap (if there's such a thing). The taste of the spices was quite strong, probably good to go with beers or other alcoholic drinks.
Spicy Lollipops $8
These lollipops have nothing to do with sweetness in actual fact. They are chicken drumlets coated with Korean sweet-spicy sauce with some of the meat carved out to shape them like lollipops. The meat is tender and flavorful, easily making it one of our top favourites that evening.
Fried Chicken Wings $8
The wings are very crispy on the outside and the meat has just the right taste. Perfect for a chicken-and-beer chillax night.
Onion Bomb $12
This is the second time I'm trying an onion bomb and this at DTMM certainly makes me feel like going for my third and fourth time! It is incredibly good that even non-onion eaters enjoyed it.
***
For now, the whole of February, go bottomless with the beers and margaritas at DTMM for only $30 for the ladies / $40 for the gents from 7pm-10pm!
Alternatively, grab a beer for only $1!
Spread the love :)