Got to know of a cowboy theme restaurant located in the west side of Singapore at TradeHub 21, hugeee thanks to Vincent!
Southwest Tavern
8 Boon Lay Way #01-33 Tradehub 21
TradeHub 21 has free parking for the first hour. Plus free parking on weekdays after 7, weekends and PH!
Nearest Bus Stop
Bus 52, 99, 105, 105B, 188 and NR5
Nearest MRT station
Jurong East MRT (NS1/EW24)
Take bus 105 for 7 stops
***
The restaurant-and-bar-in-one in a neighborhood location has its furnishings vastly influenced by the Texas 'cowboy' culture and effortlessly radiates a warm, casual and intimate atmosphere that would appeal to even the most discerning diner.
Despite the restaurant nestled amidst offices and the train tracks, it gives out the vibe of a sub-urban rustic, relaxing scene that invites bar goers to unwind absolutely at the bar with a refreshing smooth pint of beer or cocktail of their choice. Stocked with a staggering variety of beer, wine and other spirits, and classic cocktails, Southwest Tavern would confidently be able to cater to every taste.

We were there on a weekend evening and the crowd started streaming in around 7pm. Be sure to make reservations if you're visiting on a weekend night :)

Peach soda and lychee milkshake ice-blended.


Topped with a lychee, cute!

Southwest Tavern serves many authentic American tavern dishes and a variety of beers. Popular for their yummy steaks, interesting beer butt chickens and famous suicide wings, we had to try at least one of them on our first visit!
Hence we decided on the Meat Lover platter so that we can sample their steak plus two other meat dishes :p
Meat Lover $68
Australia Marbled Sirloin, Lamb Shank and Pork Ribs
(We requested for the lamb shank to be changed to grilled Norwegian Salmon instead)
This platter is good to be shared with two or more people. The sirloin steak was indeed marbled well and evenly, as pictured in the menu. We requested for it to be done medium well, and the steak came slightly blackened with bits of crisp on the exterior but still quite pink and juicy inside. Importantly, it was done (medium-well) perfectly without much of the bloodiness yay! This red meat is so succulent that it is good to go even without the steak sauce.

With home-made mash potatoes where you can still bite into chunks of real, soft potatoes, and salad with such fresh, crunchy greens, the sides were no less amazing than the mains. Those sides were an joyful discovery for us, proving that the whole platter was done with so much love and effort right down to the details.

I'd mentioned in other post that I'm not exactly a fan of pork. However, the pork ribs served at Southwest Tavern is so tender and mouth-watering that I finished most of the dish on my own!

Mocktail (tequila sunrise) as an after-drink.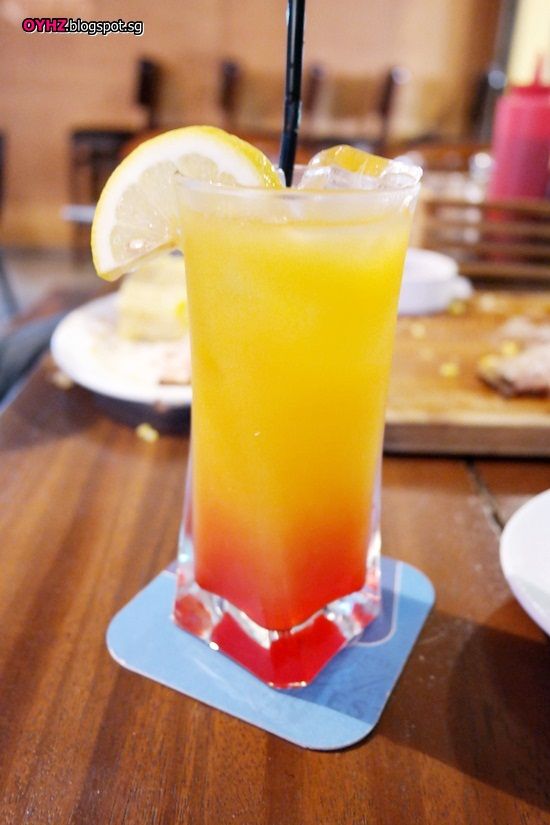 Specially-created chilli for their famous suicide wings!

On a whole, Southwest Tavern recreates an unforgettable experience with value-for-money beers and authentic American Tavern dishes. It is a great hangout venue in alfresco setting, especially for those staying or working near the West.

I can't wait to visit again for the beer-butt chicken with a larger group of friends!

***

A note on their upcoming event:

Oktoberfest @ Southwest tavern
04/10/2014 from 7.00pm - 10.00pm
By reservation only! Call 65154303 to book now :)
Quote: "I got the info from Facebook" so Southwest Tavern can bring you more deals through Facebook.
S$50.00++ per pax
Free flow, draught beer
Erdinger and Heineken
Buffet style
- potato gratin / potato wedges with demi glaze brown sauce
- garden salad with lemon vinaigrette
- pork knuckle
- pork roulade
- german pork bratwurst
- chicken bratwurst
- veal bratwurst
- bbq pork ribs

x