Been shuttling between work-wake-home for the past few nights. Weekend will be spent at the wake as well.. Somehow, it is quite an "eye-opener" to know how a different religious wake works..
Also, it's during such red/white events that one get to see how "big" or extensive his/her actual family is..
Sad to say, I'll not be attending SF anniversary party this weekend then.
Had already prepared my ombré item and choosing between various ombré outfits! :X
So in order not to "waste" my efforts, I'm gonna share how to make an ombré drink which I had initially wanted to bring to the party ;)
If you're not sure what I'm talking about, ombré drinks mean to me, drinks like these:-
Main secrets to making a successful ombré drink:
1. Sugar content – density of the individual beverages
2. Skill of pouring the liquid into the glass
3. Colour selection
Yes, just three.
Easy peasy right?? ;)
1. Sugar content
The main reason to why the drinks remains 'separated' is due to the density of the individual juices/beverages. I think this it quite common knowledge, like how oil floats above water.
However, to determine the density of the drinks might be a little tricky. However, still, it is not rocket science!
All we have to do is to find out the sugar content of the drinks to use for estimating its density!
I started looking at labels (probably for the first time in my life) to find drinks with different levels of sugar content.
*Tip: Simply look at the grams of sugar content per 100ml of the beverage for easy comparison with others :)
*Tip 2: Choose drinks with higher difference in sugar content so that it is more likely to be 'separated' from one another!
2. Skill of pouring the drinks into the glass
There's always
that
temptation to pour the drinks into the glass quickly like plain water. However, the trick is to pour the beverage one-by-one (duh, of cos) and the second or third liquid must be poured in slooooooowly, preferably down the side of the glass instead of directly into the previous drink.
*Tip: Using ice-cubes will help a lot! Pour the drinks and slowly on the top ice-cubes and let it flow down.
3. Colour selection
Make sure the colours match! Think of the gradient portion where the two liquids will mix with each other, what would the colour of that portion be?
Basic colours (Red, Yellow, Blue) will probably give nice gradients like Orange, Green and Purple.
I made a mistake in one experiment mixing green and pink.. and the drink turned out looking like poison (or brown shit) and nobody really dares to drink it -_- FAIL.
*Tip: Colour of the beverage should preferably be clear so that the gradient can be seen more clearly (pun not intended, haha!)
Then again, brown coffee and milk are opaque and they still make a nice ombré drink.. hmm.. Probably just make sure that both liquid you're mixing are of similar 'texture' :p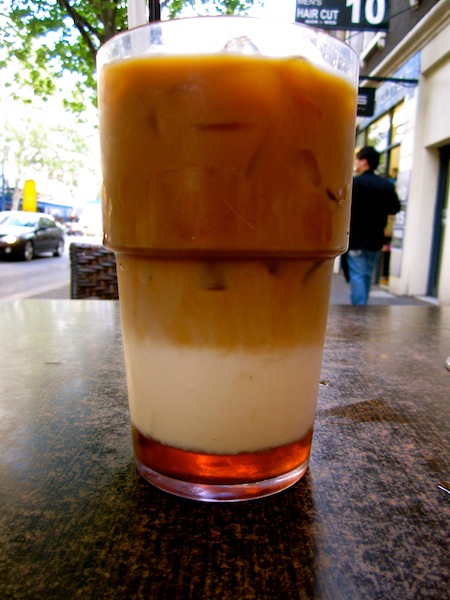 The easiest of all, should be a single coloured syrup with clear soda/tonic/isotonic drink.
My criteria set for the party were:
1. Non-alcoholic
Since we have minors among the group, haha.
2. In pretty and suitable shades
Think pastel, rainbow, or pinks, ahh :)
3. Must taste good of cos!
Had initially thought of the SGI colours like this.
But soon I realized I may have difficulties looking for a non-alcoholic blue drink that doesn't taste like cough syrups haha! Given the limited blue drink choices, I may have difficulty in choosing one with either very high or low sugar content. So I decided on more common drinks colours instead.
***
My final concoction ended up to be a pink-orange drink that taste of well, strawberry-orange! :)
It's one of my favourite colour combination (used for highlighting my study notes in the past)
Sorrie, it was just a test-experience so I didn't use nice glasses for it :/ But you can see the end result of the gradient quite clearly!
And I can tell you it taste great! Most people would like it cos they're common drinks flavours – strawberry, orange.
Tried using nicer "glass"
Here's a green/yellow version.
Here are some of inspirations I found online :)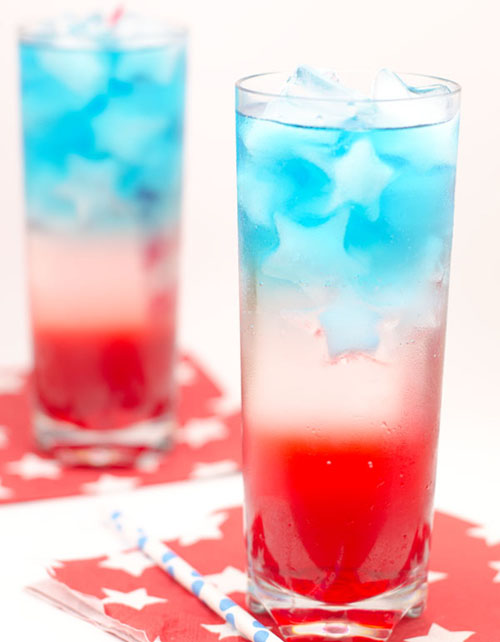 Have fun and enjoy your drinks if you're trying it out! ♥