Finally visited Boathouse @ Fullerton Water Boat House with Y!
After several misses, we held firm to our meetup this time round, as well as our seats at Boathouse thanks to priority reservations, yay ;)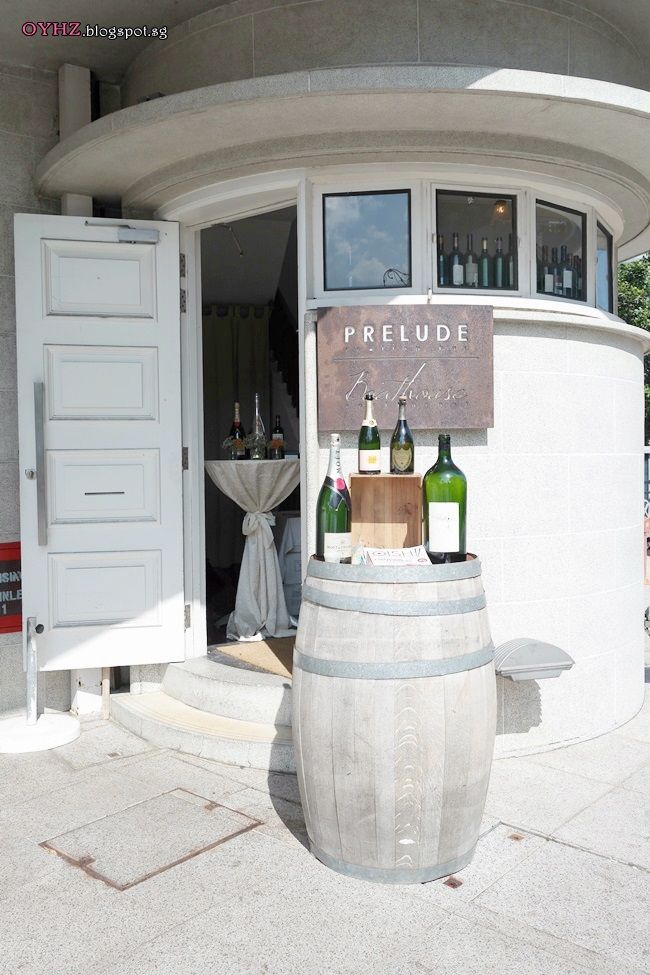 *credit http://www.findyourwayinsg.com/
Boathouse is a Modern European cuisine restaurant serving fares with only the freshest seasonal ingredients.
Designed to be a boat that is permanently docked along Fullerton Road, the Boathouse Fullerton looks remarkable inside-out.
The interior is a reminiscent of the old Singapore and the secret history of the 1919 waterboat house.
Various historical items are displayed on tables and the walls as a connection to the history of the building and location.
Boasting of beautiful timber and soothing white walls, the decor gives off a warm, sophiscated ambience. Not only that, the beautiful French windows exquisitely frame breathtaking views of the Singapore waterfront <3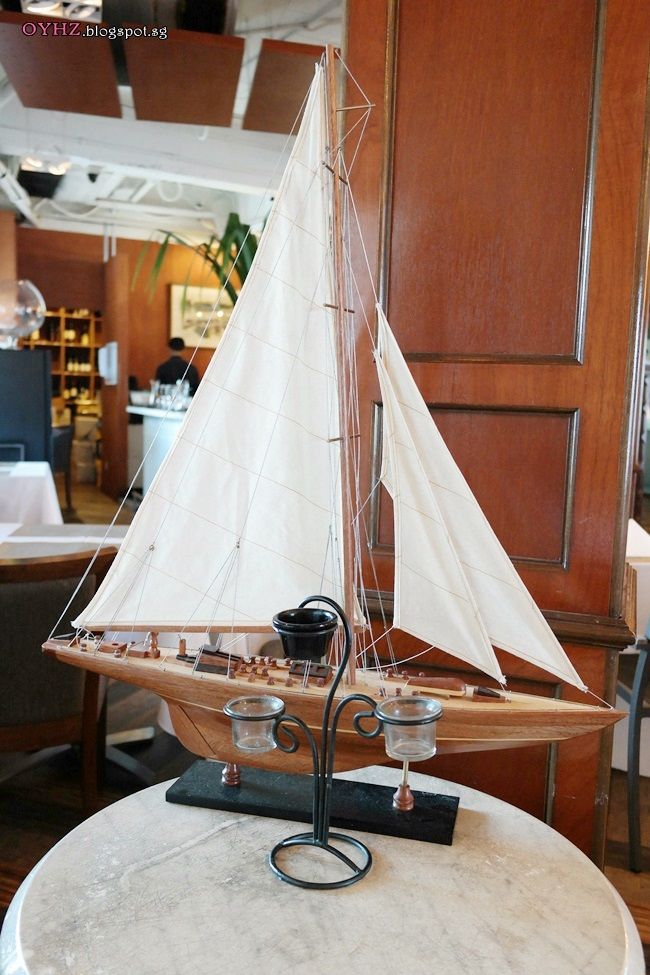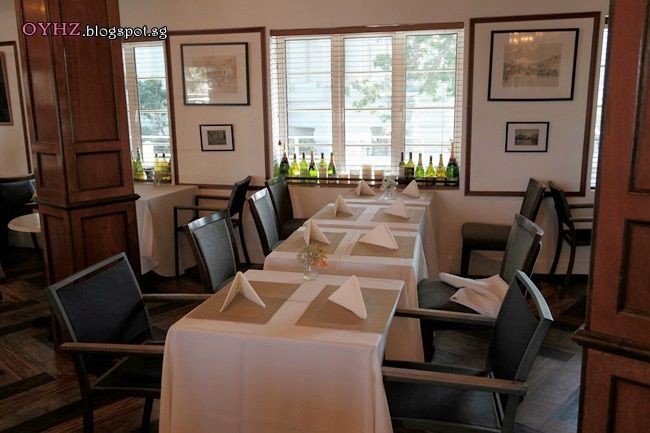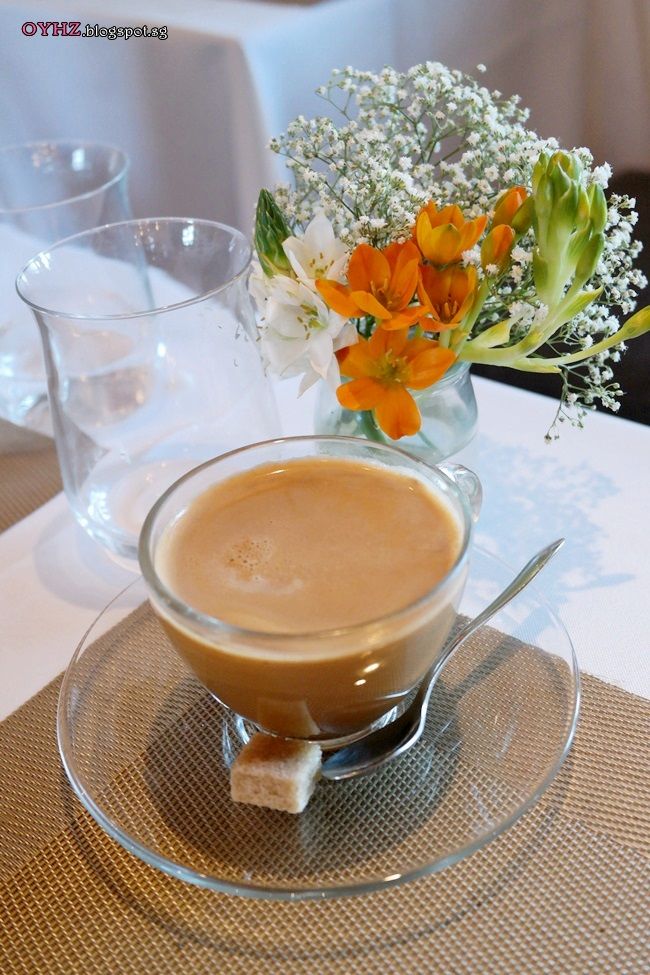 Saumon Tarte $22
Home-cured salmon, garlic aioli, chive infused creme fraiche, avruga caviar
This is a great appetizer!
The home-cured salmon was superb. I enjoyed it both on its own and with the creme fraiche (light sour cream).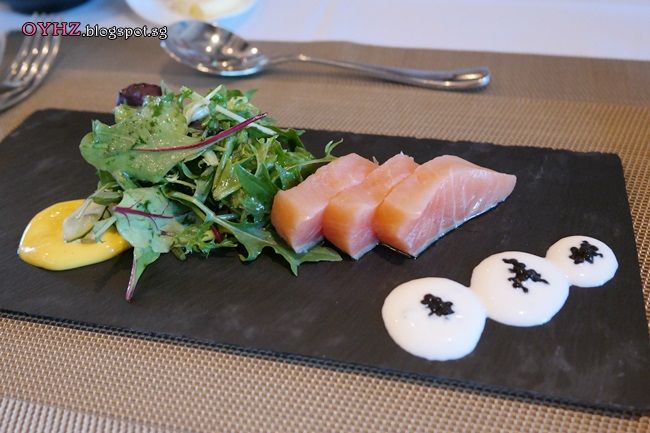 Vichyssoise $18
Warm potato & braised leek soup, salmon tartare, crispy bacon shavings
Y had soup for appetizer which I thought was fine, but nothing amazing, upon trying a few spoonfuls.
Bar D'Atlantique $32
Pan seared Atlantique sea bass, fricassee of seafood, cauliflower puree & essence of forest mushroom
Though the sea bass was very fresh, I didn't find it extremely memorable. The skin wasn't crispy enough for my liking and fish slightly bland, hence I didn't touch much.
The foamy essence of mushroom was interesting nevertheless, and the rest of the seafood that came with the dish were very fresh and sweet.
Canard $35
Duck breast pan-seared to perfection, apple & celeriac puree, roasted micro-carrots and juniper berries
My favourite! The duck breast is so tender and juicy, very much to my surprise. While being medium rare, the skin was roasted to perfection, bringing out the flavour of the fats skin. And yay, this skin has enough crisp to it. So much better than the sea bass!
Chocolat $15
Chocolate mountain, passion fruit rock and seasonal berries
Splendid dessert I would say! The chocolate mousse is rather thick in texture, making it almost like ice-cream (but less jerlat). It was balanced perfectly with sweet-sourish passion fruit mash at the side, making this dessert extremely delicious and refreshing.
On top of that (pun intended), there was pop rocks sprinkled amongst the berries toppings! If you remember it, it's the crackling/fizzing candy bits that pops, literally, in your mouth like fireworks :p
This came as a surprise as we had initially thought it was just normal nuts toppings.
Got us reminiscing on our childhood days after which <3 <3 <3 Very fun dessert!
Cassis
Cassis parfait, green tea biscotti, Dijon patisserie, basil and berry salad
Another dessert that makes us feel more refreshed and "healthy" with the various flavours of berries and green tea biscotti.
This was pretty delightful and Y finished it to the very last bit.
Boathouse Fullerton @ The Waterboat House
3 Fullerton Rd #03-01
The Waterboat House
Singapore 049215
Phone
65389038
Opening hours
Mon - Fri: 12:00 - 14:00
Mon - Sat: 18:00 - 23:00
Website
http://boathouse.com.sg

Facebook
https://www.facebook.com/boathouse.sg