October was such a significant, but hectic month! On a personal level, I was busy preparing stuff for the solemnization, celebrating (many many) birthdays, catching up with some old-time friends and shuttling to and forth my new house to settle stuff phewww.
Despite the frantic schedule, I'm truly appreciative of friends who took time to talk to me, and gave me opinions and advice regarding EVERYTHING :`) Their experiences and knowledge certainly saves me from the headache sometimes!
As for meeting up with my friends/colleagues, I had a new-favourite place which is Morganfield's @ Star Vista. Visited thrice in October – one was media invite to catch-up on Morganfield's latest promotion, twice with friends/colleagues. Needless to say, I find that this place dish up really yummy food! Not just that, Morganfield's also serves great sharing platters which makes it especially good for the group gatherings.
A popular favourite dish from Morganfield's would be their spare ribs (sticky bones). They have quite a variety of spare ribs flavours, all of which comes with generous servings of thick fries and garden salad.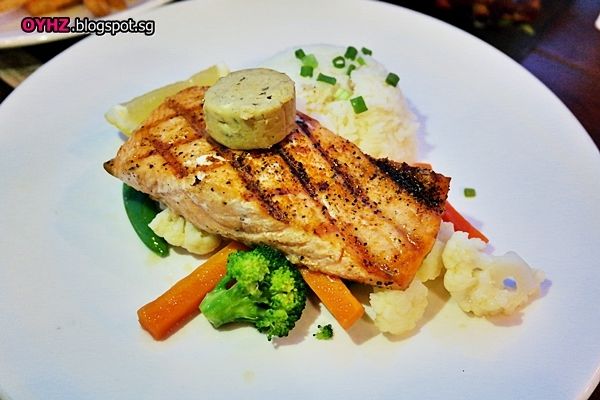 For fish lovers, they have surprisingly great fish as well. On the menu is the Blackened salmon - Norwegian salmon seasoned with Cajun spice before grilling, and topped with Merlot garlic butter.
It comes served with unique Pilaf rice and garden veggies.
As for appetizers, I would absolutely vouch for the Sauteed Mushrooms which my friends and colleagues love too!
There is also the Russet Potato Skin which is baked potato skins loaded with cheese and crispy pork bacon bites, served with BBQ ranched sauce.
To wash the palate, my personal favored is the mock lychee mojito which is exceptionally invigorating with lime chunks and mint leaves, and real lychee fruits. The summer citrus taste pretty refreshing too, slightly lighter than lychee mojito.
To end your dinner / gathering on a sweet note, do try their chocolate lava cake :)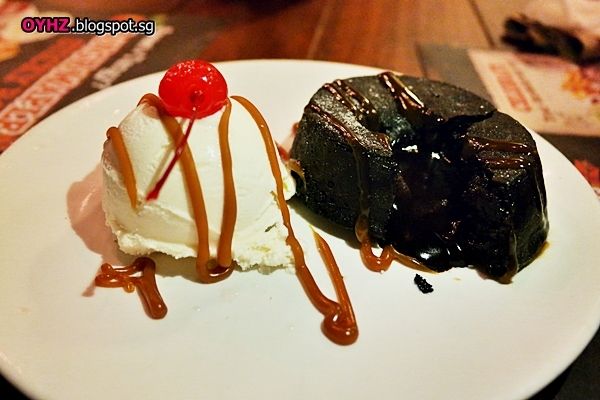 Moist, warm chocolate cake filled with rich molten chocolate. Served warm with vanilla ice cream & caramel sauce.
FYI, for anyone celebrating their birthdays (1 day before, 1 day after or on the actual day), and spending a minimum of $300 at Morganfield's, they can enjoy a Rib Pass that entitles a Half Slab Sticky Bones, any flavour for every month from November 2015 to October 2016. No strings attached! :)