Time again for Swensen's quarterly SG50 menu in celebration of the nation's 50th birthday, with three new dishes that pay homage to the melting pot of Singaporean flavors
The year long SG50 Menu at Swensen's has excited local diners with its array of inventive, fusion dishes that changes every month. This quarter, Singapore's representative family restaurant introduces another bold line-up of three dishes that bear testament to the uniquely Singaporean brand of flavor. Diners can look forward to interesting combinations that pack a punch, as Swensen's adds a personal twist on some of their classic dishes.
The three featured dishes running from July 2015 to September 2015 respectively are the Kicap Manis, Glazed Grey Mullet, You Had Me At Laksa Penne, and popular favorite Banana Chicken Makes a Comeback.
Between 1 to 10 August
, customers will be available to pick from two dishes instead of one for the first time ever, as both the Kicap Manis Glazed Grey Mullet and You Had Me At Laksa Penne will be made available concurrently in the days leading up to SG50.
These pocket-friendly offerings will be sure to satiate the appetite of any true blue patriot hankering
for a Singaporean dining experience.
1 July – 10 August 2015
Kicap Manis Glazed Grey Mullet ($15.90)
In conjunction with Singapore Restaurant Month, Swensen's is proud to be part of the 50 restaurant
brands presenting a newly created dish using only fresh local produce. The mullet is gently seasoned
and grilled to preserve its freshness, and comes served over a bed of savory buttered rice for the
full works. I love the rice indeed!
Not only that, for chilli lovers, accompany every bite with Swensen's homemade garlic chili kicap manis for an oriental twist of flavor!
Augusts 2015
You Had Me At Laksa Penne ($14.90)
Happy Birthday Singapore! Celebrate 50 years of independence by digging into a delectable Laksa
with a western twist. Hearty whole meal penne tossed in authentic Singaporean Laksa gravy with
an abundance of fresh ingredients – rich blue mussels, scallops from the North Sea, juicy prawns and dry beancurd.
September 2015
Banana Chicken Makes a Comeback ($14.90)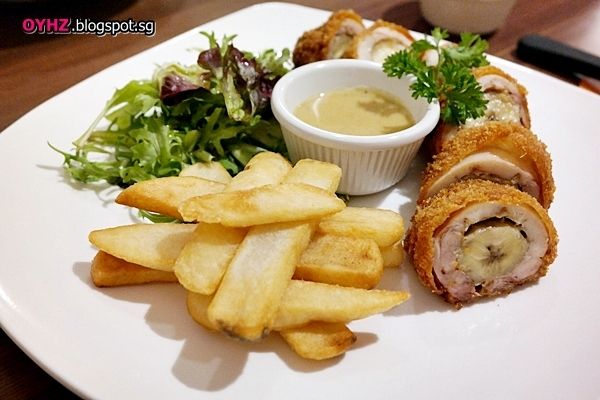 The dish that swept Singapore in its earlier years makes a glorious comeback. Lightly battered marinated chicken chunks are wrapped around a juicy banana and deep fried golden brown. Dip into the light curry cream sauce for an explosion of flavors. Served with our hot U.S. Fries and Mesclun Salad, this blast from the past is definitely Swensen's best kept secret! Our favourite out of the Quarter SG50 menu for the tender chicken and popular
goreng pisang
;)
***
Not just the SG50 menu, this July, Swensen's delivers chockfull of flavor and a slew of new additions to their menu for an improved dining experience at Singapore's favorite family
restaurant.
Heartwarming newcomers like the Farm Roast Chicken with Mustard Onion Sauce and crowd-favorite Slipper Lobster Roll vie for your attention with their classic flavor profiles, while innovative dishes like the Oriental Chili Fish Pasta and Milo Dinosaur Sundae Dirt Pot offer an element of surprise and keep diners on their toes.
Swensen's fans will also be delighted to know that the Breakfast Menu has expanded to include Salted Egg n Honey Toasties, and other kid-friendly dishes to reward everyone for a well-deserved family treat. Can't wait to try this over the weekend soon!
Chose to try my favourite scallops in the new menu during the media tasting.
Golden Breaded Scallops ($9.80)
Whet your appetite with these succulent scallops fresh from the ocean. Lightly battered with bread crumbs and served with creamy tartar sauce for an umami mix of flavors. And the scallops really come golden brown at Swensen's! (unlike some places where the oil used has been recycled too much resulting in dark-coloured fry :/)
Slipper Lobster Roll ($17.90)
Another of my favourite at Swensen's ever since trying their seasonal Boston lobster roll previously! Now it's finally in their regular menu, yay! This dish is a symphony of sweet slipper lobster dressed with special honey lime dressing. Nestled in a pillow soft grilled bun that is buttery and crisp on the outside, soft and chewy on the inside. Topped with a touch of butter oil for an unforgettable taste in every bite.
Another seasonal dish that made a comeback is the
Firecracker Soft Shell Shrimps ($8.50)
Had tried it during the previous
swensen's media food tasting
.
These flavor bombs are coated with a tasty blend of spices and fried for that perfect crunch. Outrageously addictive, these lightly battered morsels are served with Swensen's very own pineapple BBQ sauce.
Farm Roast Chicken with Mustard Onion Sauce ($15.60)
Go back to the basics with this classic delight! Tender, juicy quarter chicken elegantly seasoned with a heavenly blend of spices, roasted to tender perfection and served with Swensen's rich savoury
mustard onion sauce.
Oriental Chili Fish Pasta ($16.90)
Satisfy your appetite with this smorgasbord of fulfilling flavors. Tender dory fillet lightly coated with homemade batter, fried to a crisp golden brown and slathered with Swensen's house signature
spicy oriental sauce. Served on a bed of spaghetti with a hint of fragrant garlic.
Milo Dinosaur Sundae Dirt Pot ($10.50)
Been wanting to try a potted dessert since last year but somehow the idea had been abandoned several times for many, many reasons. So YAY, certainly pleased that we could finally try one yesterday! Swensen's Milo Dinosaur Sundae Dirt Pot uses well, milo powder instead of the usual oreo specks and the main bulk of it is Swensen's milo ice cream of cos! 🍦The ice cream is presented with a cute gummy worm (*this is a worm that never dies..*), passion fruit and parsley. Also, not forgetting the miniature shovel which you can use to unearth the "soil" to reveal many treasures underneath! I shall not spoil the surprise, try it yourself to know what lies beneath ;)
Below are addresses of the Swensen's outlets :)
Ang Mo Kio Hub
53 Ang Mo Kio Avenue 3
#B1-25/26
Bedok Mall
311 New Upper Changi Road
#01-77
Bukit Panjang Plaza
1 Jelebu Road
#03-04
Causeway Point
1 Woodlands Square
#02-08/09
Centrepoint
176 Orchard Road
#02-52/53/54
Compass Point
1 Sengkang Square
#B1-28/29
City Square Mall
180 Kitchener Road
#03-37/38
Clementi Mall
3155 Commonwealth Ave
West #05-31/32/33
E! Hub @ Downtown East
1 Pasir Ris Close #02-121/122
IMM
2 Jurong East Street 21
#01-111
ION Orchard
2 Orchard Turn
#B1-31
Junction 8
9 Bishan Place
#01-39
Jurong Point
63 Jurong West Central 3
#B1-64
Marina Square
6 Raffles Boulevard
#01-206/207
Nex Mall
23 Serangoon Central
#02-07/08
North Point
930 Yishun Avenue 2
#01-16/17
Parkway Parade
80 Marine Parade Road
#B1-33/34
Plaza Singapura
68 Orchard Road
#03-23
Tampines Mall
4 Tampines Central 5
#03-30
The Seletar Mall *NEW*
33 Sengkang Avenue
#02-11/12
Thomson Plaza
301 Upper Thompson Road
#03-23
West Mall
1 Bukit Batok Central Link
#02-05
24 hours Swensen's Outlet
Changi Airport Terminal 2
Mezzanine Level, Arrival Meeting Hall North