Finally got down to blog about a dinner date, last year, with
OpenRice
and
Between App
(Thanks!) :p
The cheapest parking nearby should be Marina Mandarin hotel (a short distance away, opposite esplanade) – only $2.20/entry after 5pm! We parked there and took a nice stroll to the Esplanade Bay.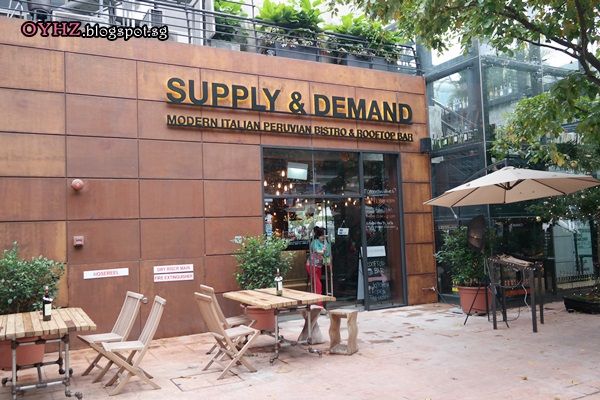 Supply & Demand
- A modern Peruvian-Italian restaurant that serves really good food at affordable prices.
The interior boast of a homely industrial (oxymoron? ;p) chic style with its brass pipes, hanging incandescent light bulbs, brick walls, steel chairs, cemented seats, and huge warm-colored cushions peppered around to add on a relaxing composition.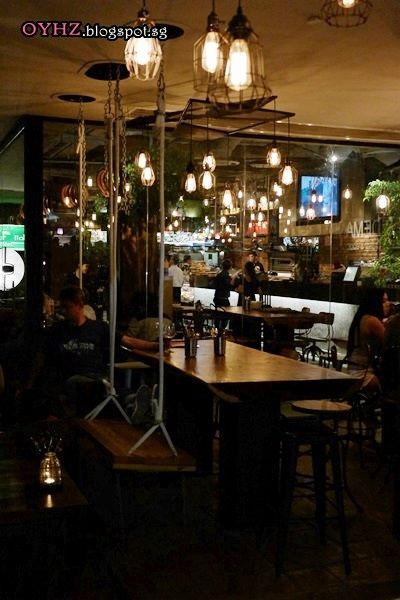 The main courses - pastas and pizzas - are generally in the $15-$20 range. Pretty decent for a restaurant situated in such a centralized location and it comes with a splendid view of the MBS/CBD skyline if you're seated at the alfresco area.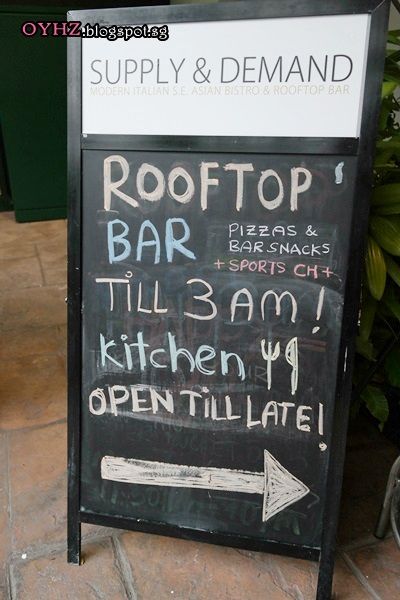 Oh, not to forget, Supply & Demand houses a really cool rooftop bar.
The stairway leading up there is also gorgeous, as though leading us to an exquisite secret hideout.
True enough, the open-air bar felt all cosy and romantic, making one yearn for a night long of chilling and gazing at the picturesque ferris-wheel.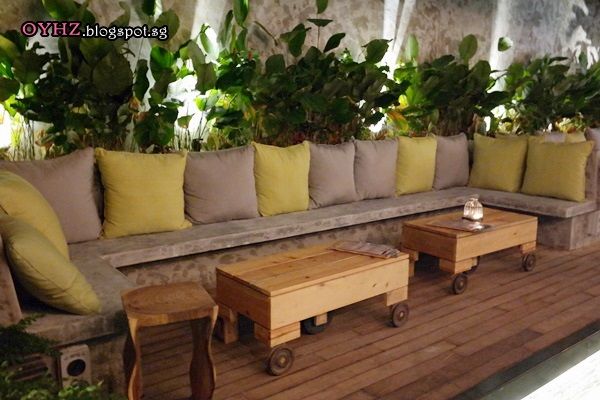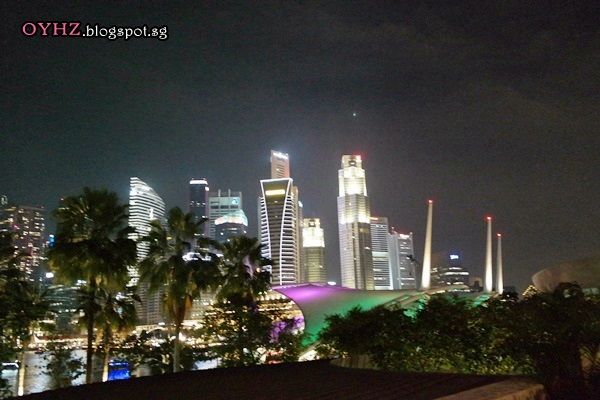 So, even if you have had dinner elsewhere, do pop by the rooftop bar to chill out with some good drinks still! Happy Hour is all day long from Sundays to Thursdays, and you'll be glad to know that a bottle can go as low as only $5 :) $7 during regular hours!
The menu has over 20 flavours of pizzas, so great news for pizza lovers!
The only down-side is, there aren't photos in the menu. Personally I find it hard to read menus that are purely in words *.* It would be good to have pictures of the Best-sellers or Chef's recommendations at least! I think I wrote that down in my feedback to Supply & Demand at the end of the meal. Hee.

As mentioned, prices range from $15-$20+ generally for the mains, with lobster dishes at higher pricings such as the 1/2 Boston lobster pasta at $34/$40 :)

9" Pizza - $17
13" Pizza - $21

Tasting pasta - $11-$16
Full pasta - $15-$22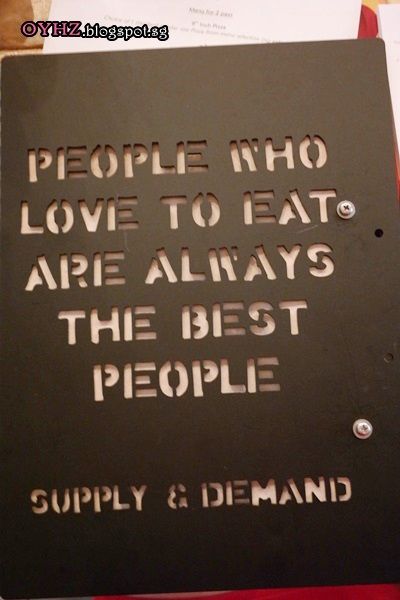 Between and OpenRice selected a smaller scale menu for us and the following was what we had:



Fries with a Side of Guilt
The fries were presented in a metal tin container, in tune with the industrial chic style decor of the restaurant.
Though thickly cut, they were evenly-cooked and comes with generous servings of cheese! There is a choice of barbecue sauce at the side if you wish to add more flavour to it, though personally I don't see the need at all :)
Parma Ham with Arugula Salad
I'm not a fan of parma ham or salads, so I didn't try the appetiser :X
All'Arrabbiata $15
Classic Italian Fiery Hot Garlic Infused Tomato Sauce
"Arrabbiata" means "angry" in Italian, referring to the chilli peppers in the pasta sauce.
However, being a non-chilli lover, I could accept this dish perfectly! (okay, just slightly cheating with my iced drink lol) Apparently, the sauce has been managed to suit local taste more :)
An unique twist to this common Italian pasta introduced by Supply & Demand is the minced meat added to the sauce.


Without telling M, he knows that I would love to try the 'The Morning After' pizza :) Becos I love bacon and mushrooms!
In addition, 'The Morning After' was a Chef's recommendation.
Nobody ordered the same pizza as us though, surprisingly :/


La Mattina Dopo $17
(The Morning After)
Tomato sauce, Mozarella, Bacon and Mushroom With An Soft Egg Set In The Center

Fans of runny yolks will probably squeal in delight like me :p
M and I shared the soft, runny yolk with a slice of pizza each almost immediately after the pizza was served (after quick snapshots of cos heh).
The pizza crust was thin, crispy and yet fluffy to taste. Even the portion covered by the soft egg was not soggy at all.
Dough of pizzas are made in-house daily, and baked to order, ensuring fresh pizzas for you anytime!
Ingredients were well-spread over the entire pizza, though being greedy foodie us, we wished there can be more bacon/mushrooms if possible to make the pizza less "plain".
But, the slight "plain-ness" could be due to the fact that we slurped up the runny egg too soon instead of spreading it over the pizza! Oops! My fault then :p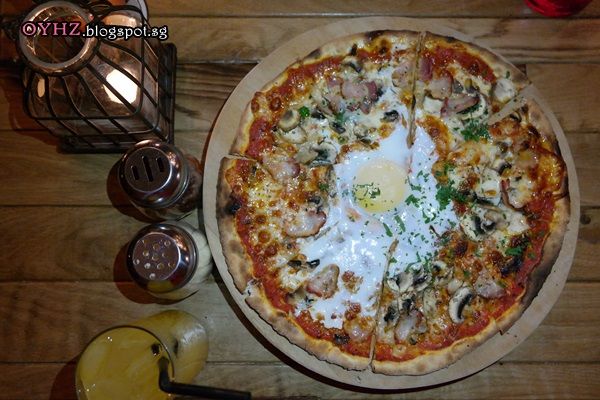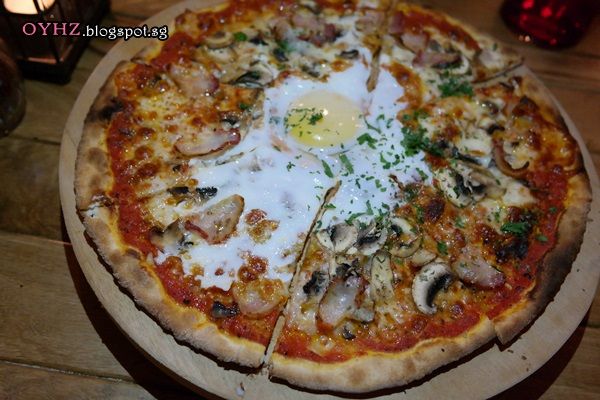 Salsiccia $17
(Chorizo and Italian Sausage)
Tomato sauce, Mozzarella, Mixed Sausage, Mushrooms, Onions, Garlic

We exchanged our half-finished egg-less pizza (paiseh) with another couple, Jacelyn and her hubby, for theirs! So we got to try the Chorizo and Italian Sausage pizza too :)
The crust was of the same standard too, however, there was nothing unique about it. Perhaps, sausages don't excite my taste buds generally..




Textured Chocolate Cake with Salted Caramel $11

This cake was amazing! I finished the bulk of it even though I was so full from trying the pizzas and huge portion of the All'Arrabbiata pasta earlier on.
Like I always tell my friends, salted caramel with chocolate will never go wrong.. :p
Uneven sizes of chunky chocolate bits at the top, plus some tiny bits in-between the layers of the cake added to the texture - as the name of the dessert suggests - and gives extra bite to it.
The salted caramel was rich and just right, not too overpowering or underwhelmed by the chocolate.




Found some macaroons which I would definitely go back and try some other day!
As well as to chill out at the alfresco rooftop bar.


Ending off with snowman found in the restaurant <3
Supply & Demand
Esplanade, Colours By The Bay. 8 Raffles Avenue, #01-13
Singapore, Singapore 039802
Phone
6336 0588
Opening Hours:
Mon - Thu: 11:30 am - 10:30 pm
Fri - Sat: 6:00 pm - 3:00 am
Sun: 12:00 pm - 10:30 pm
Website
http://www.cre8group.com.sg/
Facebook
https://www.facebook.com/supplydemandsin
***
Thanks Between and OpenRice again for the lovely dinner! ♥