A quick comparison of the two cat cafes I've visited:
With that, you can more or less know which cafe I prefer personally :)
The Cat Cafe
wins hands down to date in Singapore. The staff/keeper at
The Cat Cafe
are approachable and interactive, chatting with the customers every now and then about the kitties and their liking. Interestingly, the felines are similarly sociable and
communicative
- some of them have traits that are simply too adorable to know!
I also like the idea that all cats from
The Cat Cafe
were ex-strays or cats abandoned by their owners. They were rescued by Kitty Care Haven and now given a "second chance/life" at The Cat Cafe.
Entrance fee to the cafe is also very reasonable, especially since we stayed for around 3 hours at the cafe, at just $15 with a complimentary soft drink.
The Cat Cafe
is very spacious at 1,200 sq ft with a dining area that allows the cats to roam around freely. Also, cushions and floor seats are plentiful making sure that both customers and felines are comfortable chilling at the cafe.
Cliche, but I must still say,
The Cat Cafe
is almost purrrfect :)
The Cat Cafe
is located above Bugis Village, which is convenient for those not driving.
The Cat Cafe SG
241B Victoria Street Level 3
(Right above Burger King)
$15 per entry (with a complimentary soft drink)
Top ups available to upgrade drinks to coffee/tea/juices
Age requirement: 6 & Above only. Children under 12 must be accompanied by adults
Tuesday – Sunday, Public Holiday: 10am to 10pm
Upon entering the cafe, you'll be greeted by a smiley staff/owner that makes you feel welcomed right away.
Currently there are no reservation system in place. However, you may call the cafe beforehand to enquire on the "waitlist", or to place your name on it so that you may gauge the time to arrive and not required to wait any further.
While making payment for the entrance fees, you'll be asked for your choice of soft drinks and any additional food orders.
We had to sanitized our hands before entering the cats/dining area and changed into non-slip footwear.
Once at our seats, the staff briefed us on the cafe rules with this plastic sheet, and asked if we have any queries or any other food orders.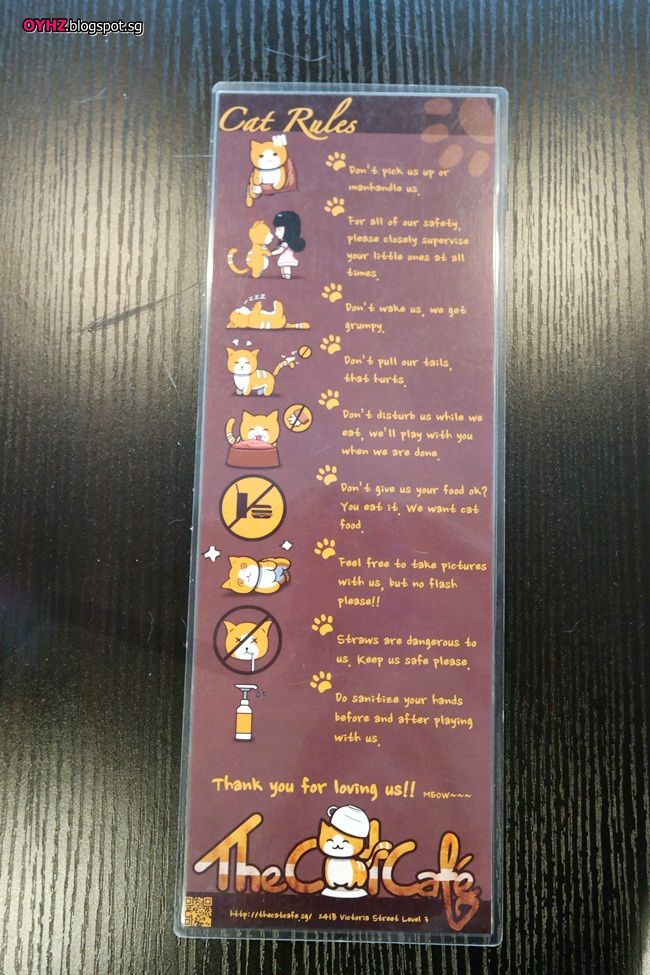 Pet grooming items on sale in the cat cafe.
Here's their beef lasagne with chips and the complimentary soft drinks.
At only $8.90 (no GST and service charge), I would say the lasagna is pretty good for a proper meal while enjoying the time with the felines.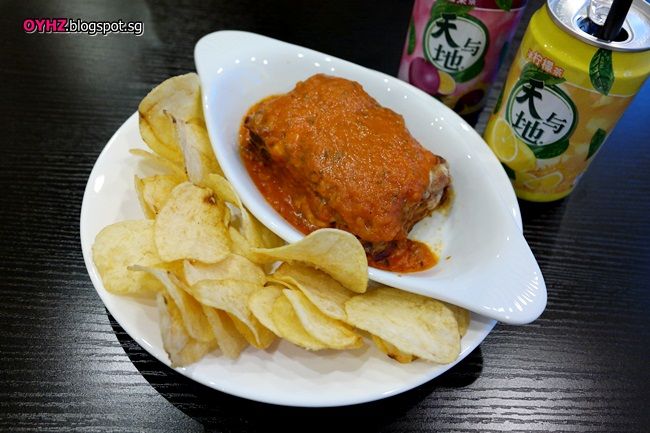 It would be great to drop by the cafe during dinner time (I mean dinner time of the felines) so as to catch them in action!
Look at them gathering for dinner.
Getting into petty catfights while waiting.
Finally!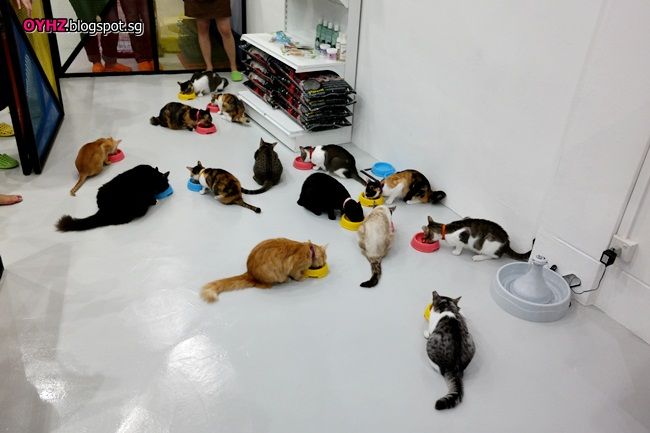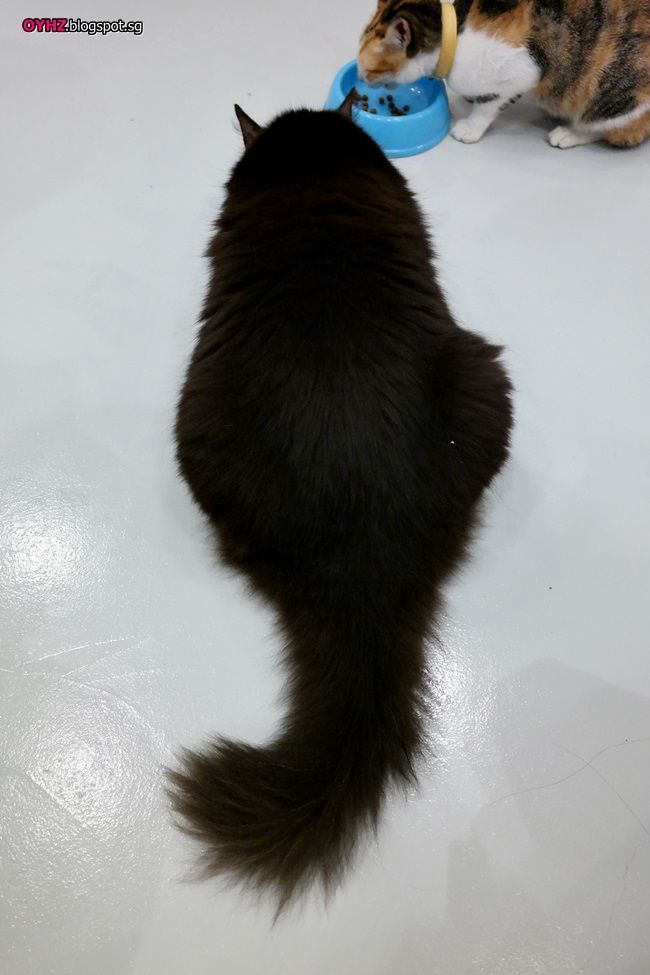 (I'm contented, lalala..!)
It was a joy to watch all of them munch hungrily at their dry food.
Naturally, there will be a few greedy ones that goes around sneakily once they're done, to grab others' food. Lmao. You HAVE to go down and watch them in real life! :)
See Elly searching for the "weakest link" to attack as soon as she was done with her dish.
Elly is probably the greediest and most approachable cat in the cafe. When there are no food in sight, she behaves like a guardcat seated constantly on the gate when we went, so she will be the first to "greet" all customers! (Thou I suspect she's seated at such a high point becos it helps in sighting food more easily, rofl.)
(Oh someone's here again!)
(O.O Is that FOOD i see??!)
(*sniffsniff*)
For the cats' safety, all customers had the permission to "grab" the cats away in the event that they touch human food.
Most of them seem to love coffees, no idea why. But you know what to order if you want them coming to you (your food..) ;)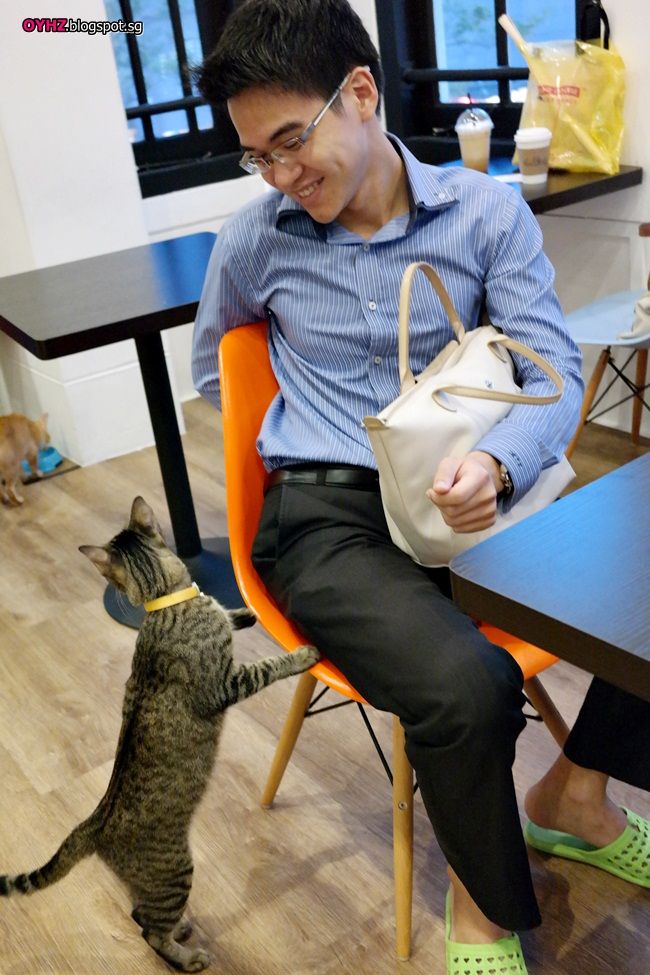 Elly was nosing her way into my tote on the floor while we were not aware. Hence M had to protect it!
Here's her attempting to manja M into giving her my tote, before being distracted by a water fountain nearby.
(Water in the bowl is better than unknown tote on the lap. *enlightened*)
After dinner-hour would be treats time!
Look how the cats will crowd around once they spot someone carry treats!
The treats are available at $3 per bowl - canned tuna.
(Do I smell tuna??)
Some cats wait patiently for customers to feed them one-by-one.
Some happily lap up treats that are accidentally dropped.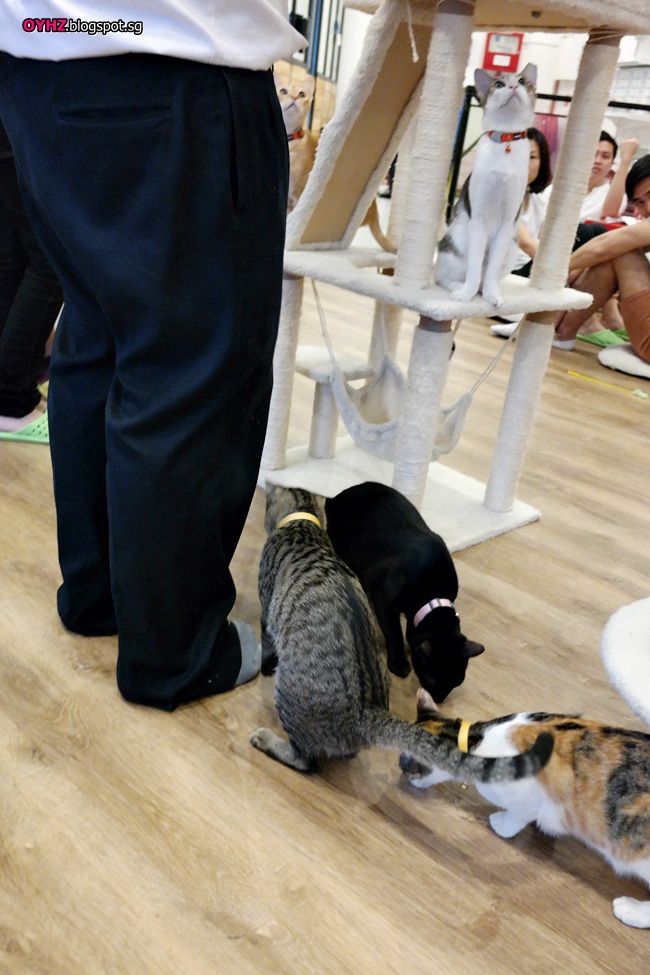 Some simply snatch *slaps head*
Some wait patiently.. (But never get it rofl)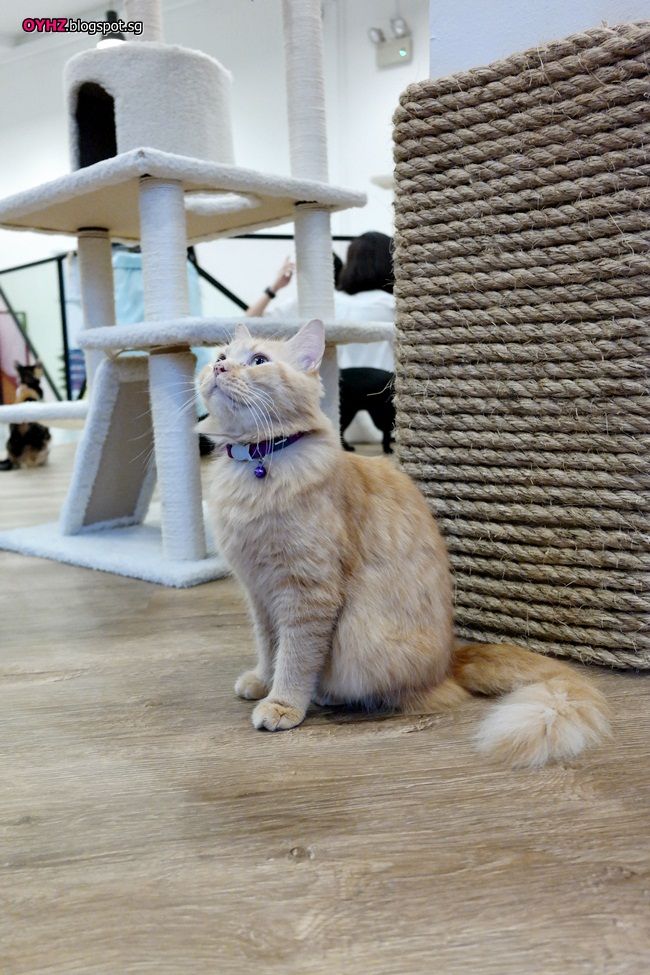 Others queue up for treats.
Talk about discipline!
After treat-time, the felines roamed around for play and drinks.
Here's Missy, drinking and showering with the fountain.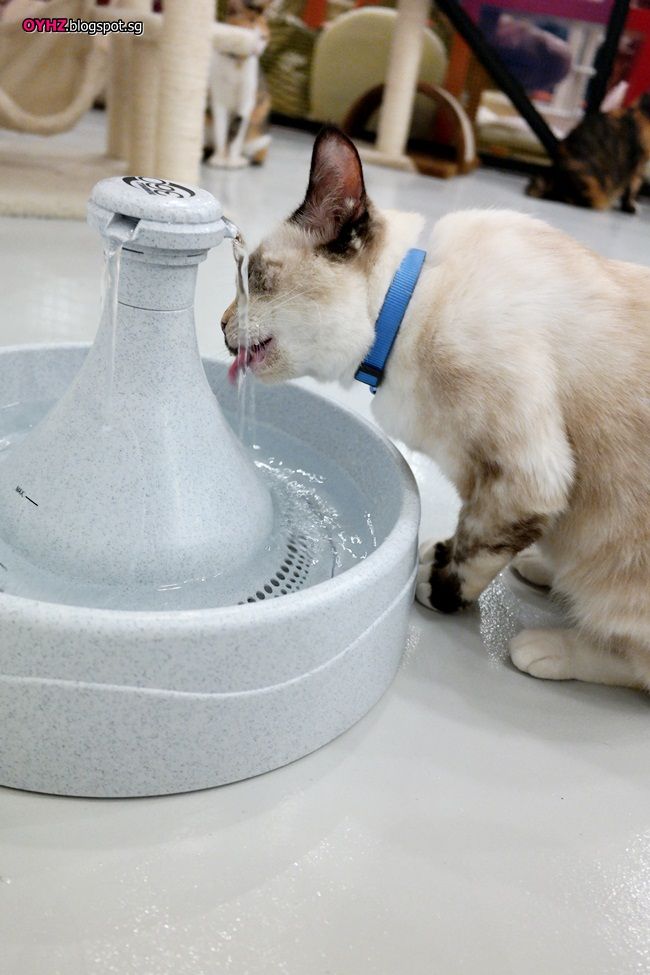 Missy
Missy is a shy siamese cross that take a while to warm up.
Her 'half-face' is so unique!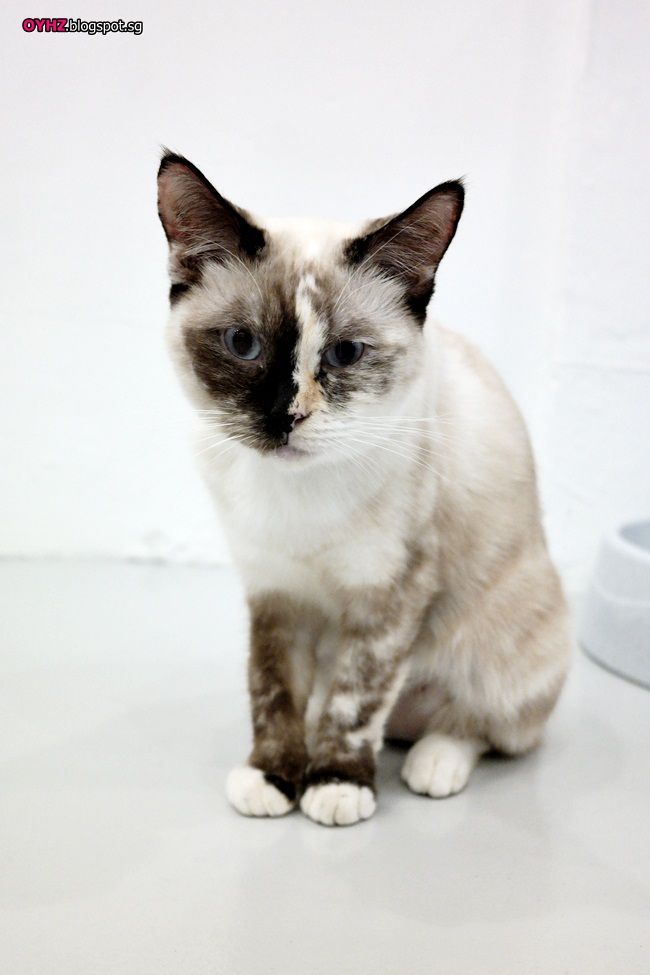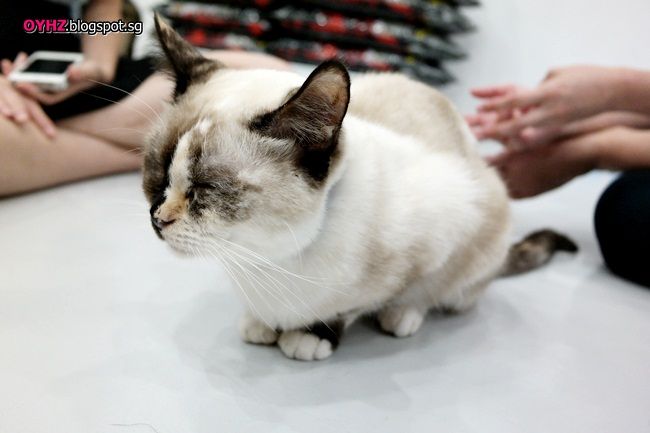 Jimmy and Yogurt having a romantic drinking session. lol.
Jimmy
See the fluff - almost too much to bear!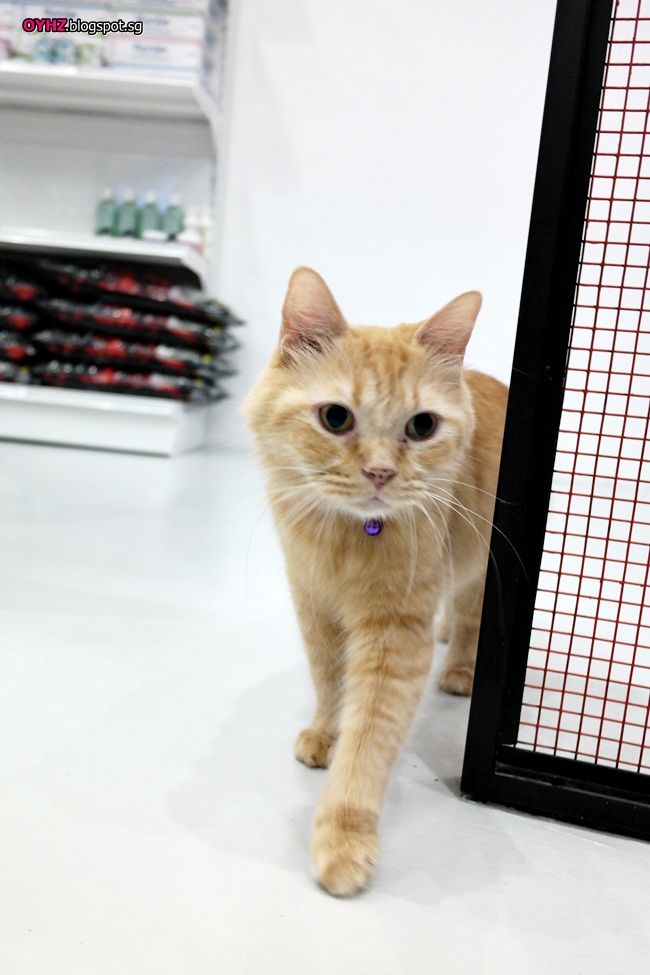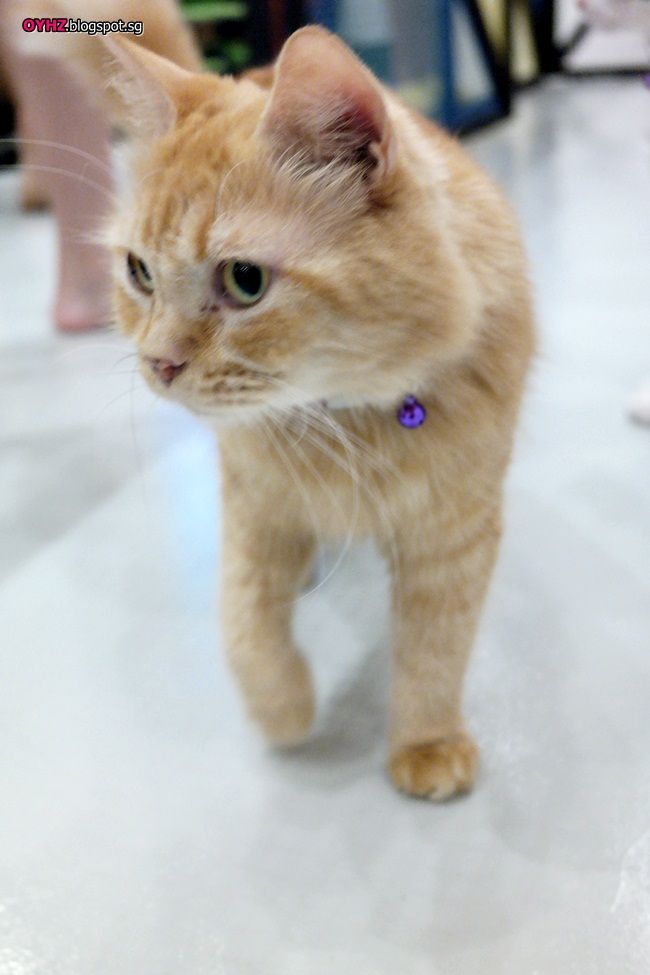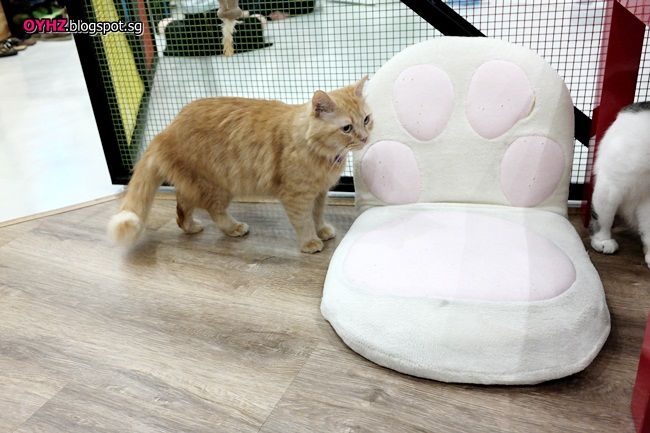 Patches
Per The Cat Cafe, Patches is also the selfie queen as she would stay still and look straight into the camera when you try taking a selfie with Patches. So true!!
*Pose*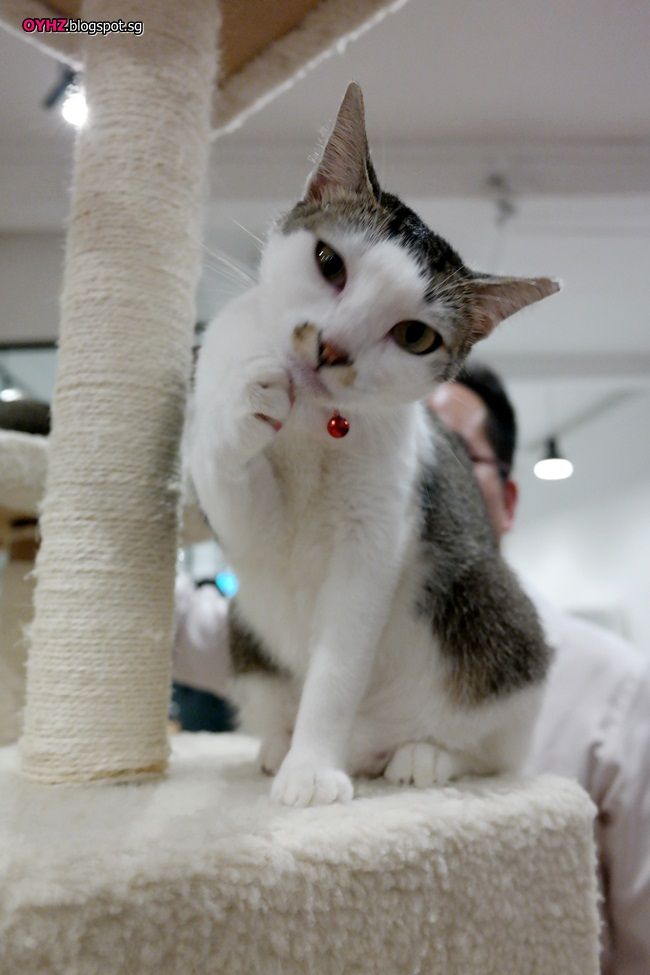 See? Lmao, still looking at the camera!
Ginny
A home grown Singapura kitty. In case, you didnt know Ginny is fully grown and not a kitten – Singapura cats are known for their smaller build.
Ginny can be extremely friendly at times and often found taking short naps on patrons lap.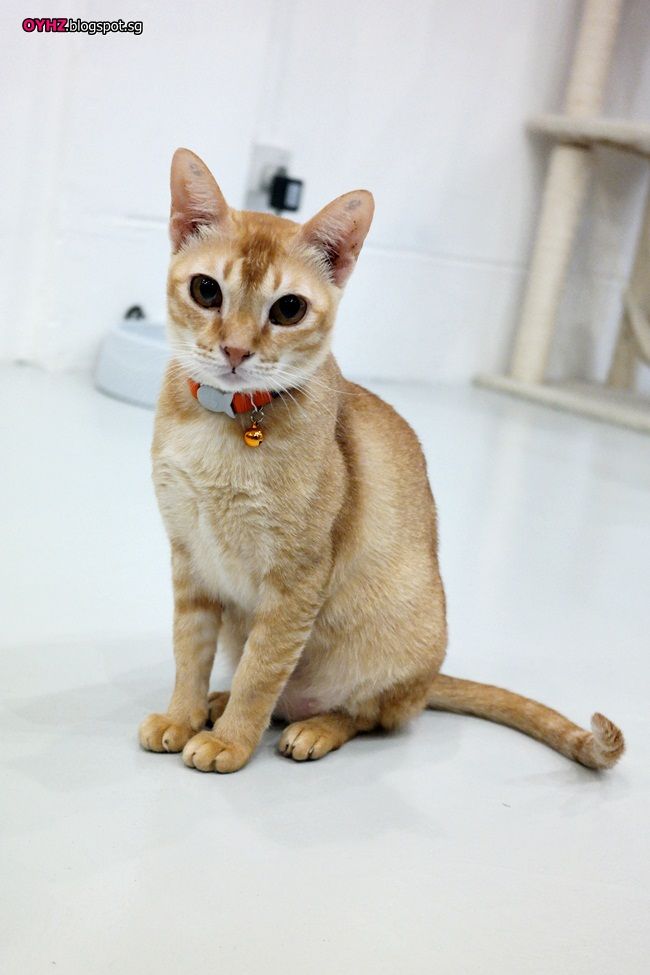 I believe she likes guys better though cos she was sniffing non-stop at M's butt lmao! And on another occasion,
Mia
told us that she fell asleep at T's crotch area for a good half hour *'.'*
Silver
Silver is one that constantly has that funny disapproving/bo-chup look on her face. But she is gentle and enjoys butt pats and stroking!
*Raises butt for patting*
*Bo chup towards my nom nom-ing*
Yogurt
Yogurt is the sibling of Cookie and Pudding. She might seem a little shy and need some time to warm up fully.
I can't really differentiate her from her siblings honestly. They look so alike!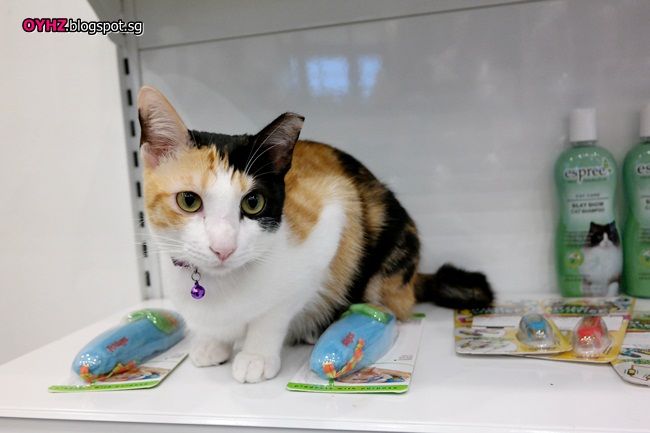 Pudding
*She was disagreeing that she looks alike with Yogurt*
(See how confident I stand, compared to Yogurt)
Pudding is one of the more playful cats and constantly on the move. She was often found wrestling with her sibling, Cookie.
Kelly
Another cat that looks highly similar to Pudding above!
She's slightly tinier in size, and naps most of the time right after dinner.
Cookie
Cookie seems to share a bromance with Tommy...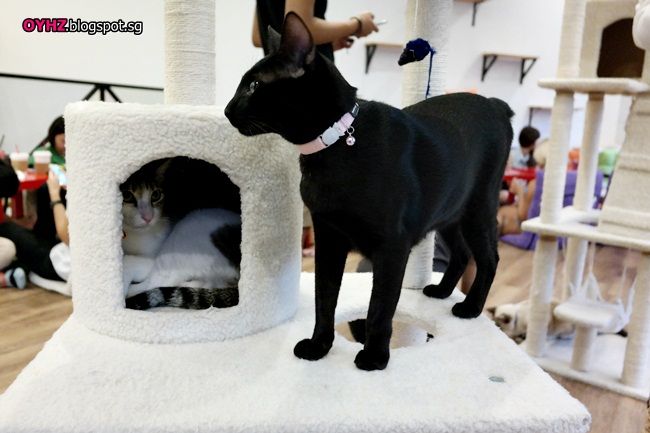 (Honey I'm home!)
(Oh sweets, you're back *smooches*)
The two black felines.
Tuxedo (left) and Tommy (right)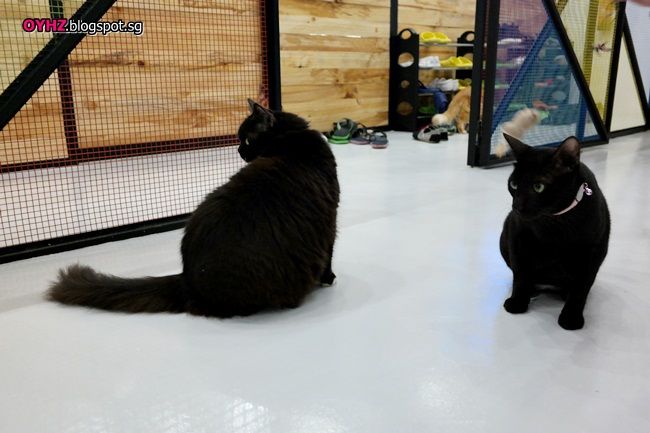 With his bromance with Cookie aside, Tommy loves playing with the fishing rod!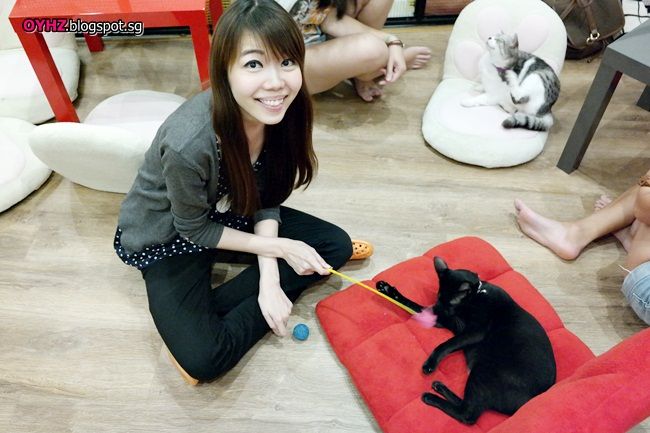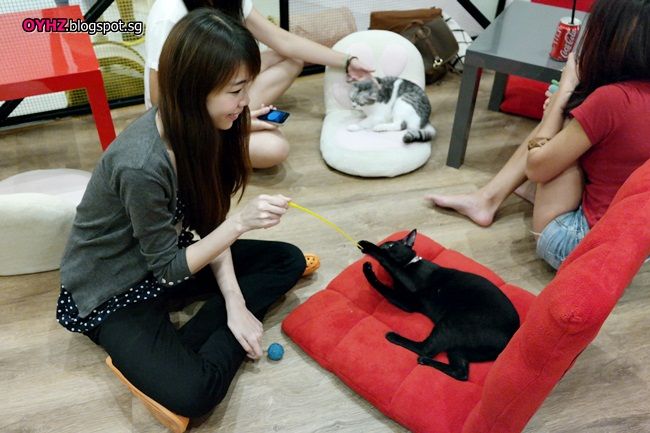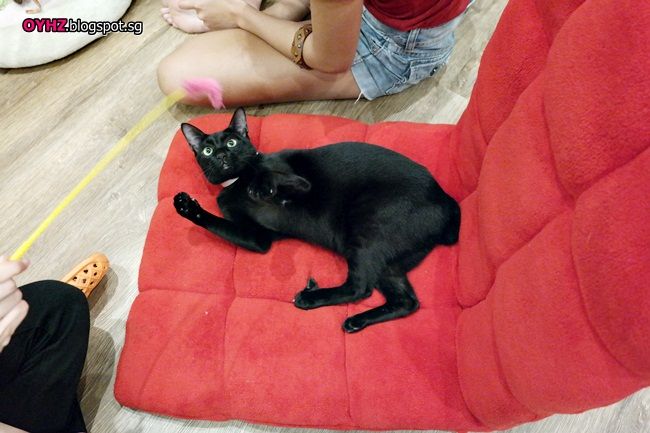 Tuxedo
Our favourite cat for the night! He is very active and constantly on a lookout for play!
His favourite toy is the mouse and he walks around meowing aloud with victory each time he catches it.
We called him the haolian cat, lol.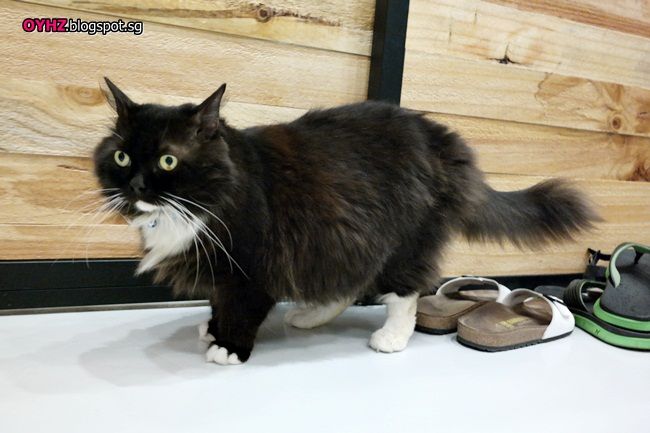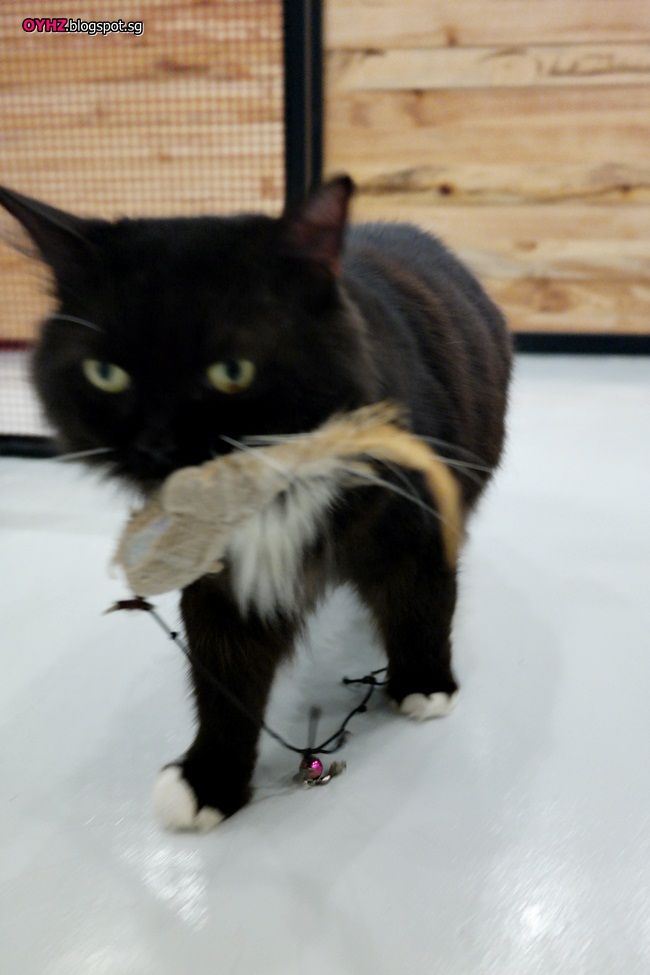 The staff told us that Tuxedo enjoys belly rubs too, awww.
And here's the staff showing us in the picture.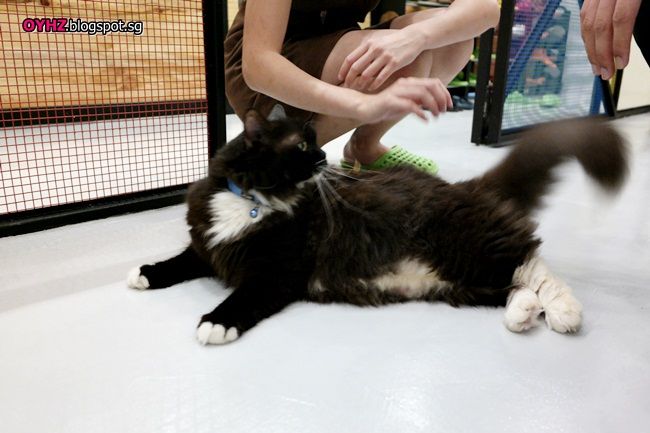 Tuxedo lay down in bliss totally.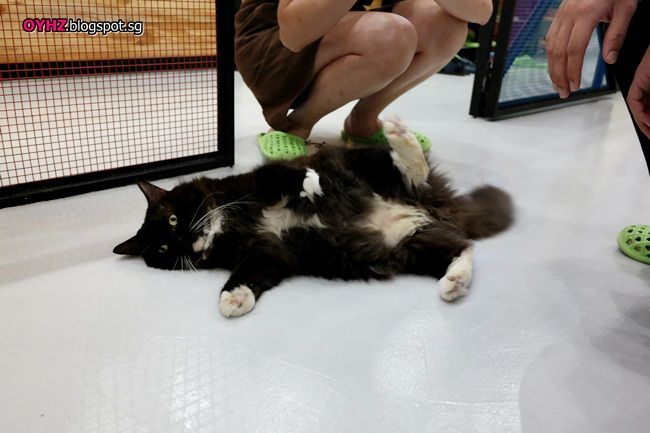 FruitCake
Looking totally like a fruitcake from the bakery, she is one of the oldest cat in The Cat Cafe. No wonder she has a kinda old grandmother look.
Nevertheless, her fur is so gorgeously colored!
(Excuse me, are you talking about me?)
(Btw, who were you calling 'old grandmother'...)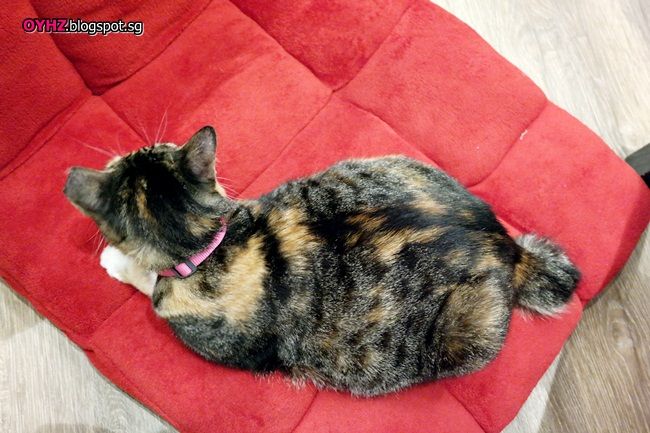 (I sense someone stalking me)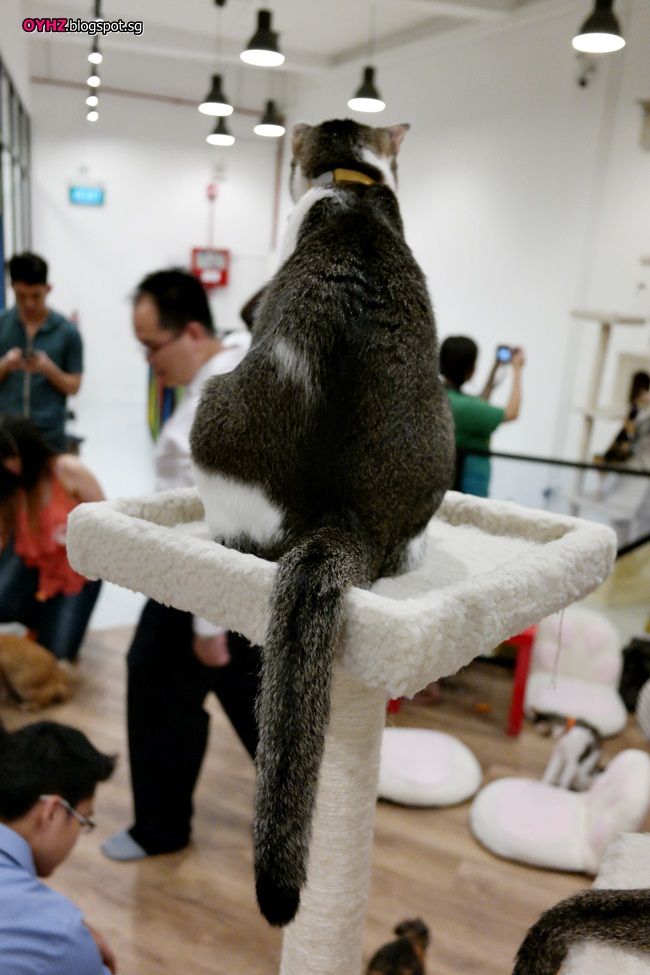 (OH! You! Want a photo of me?)
(I look better in this lighting *winks*)
At aroud 8pm, the cats start to fall asleep.
In 3....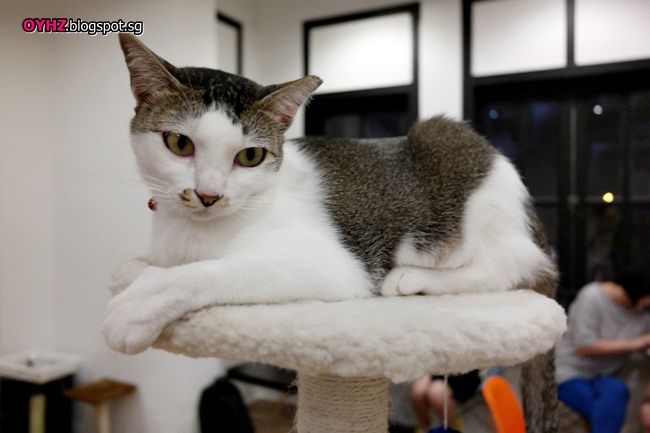 2...
1...
zzzz...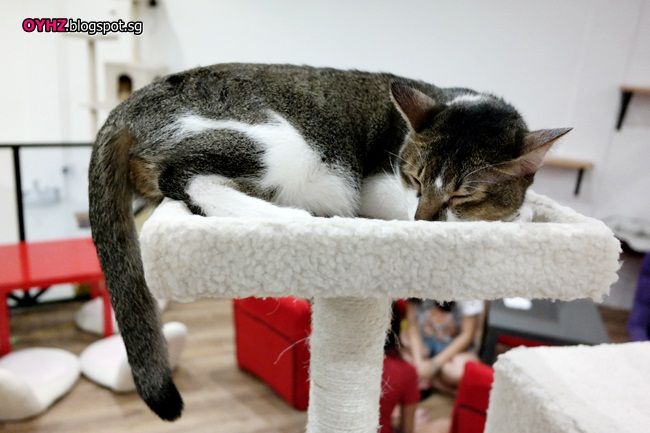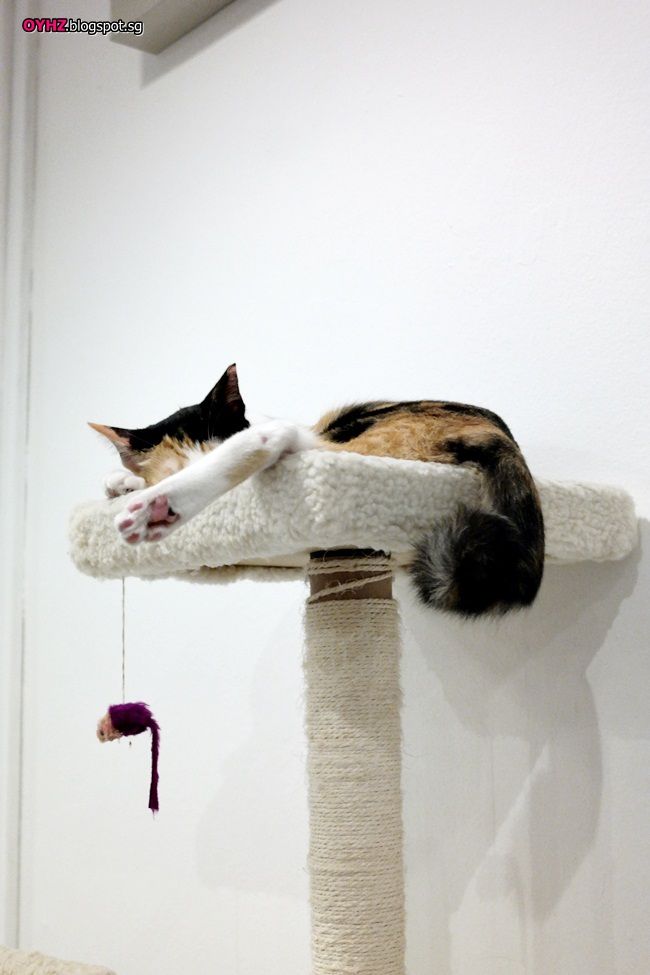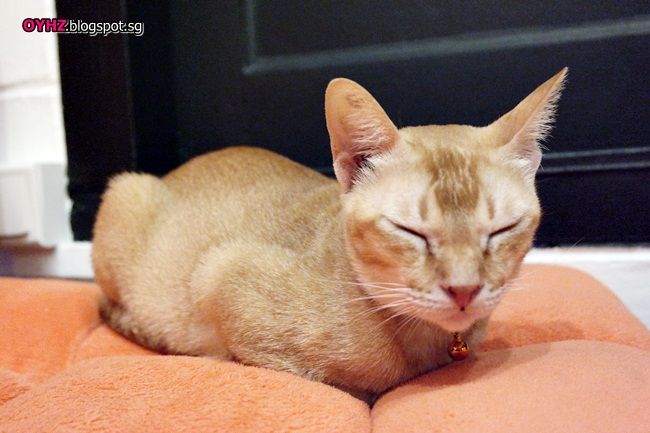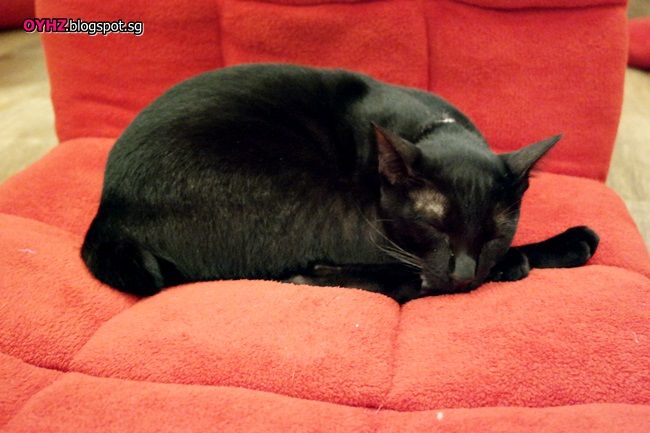 (*GLARES* It's so rude to stare while I'm asleep.)
*looks away*
But can't beat the zzz monster...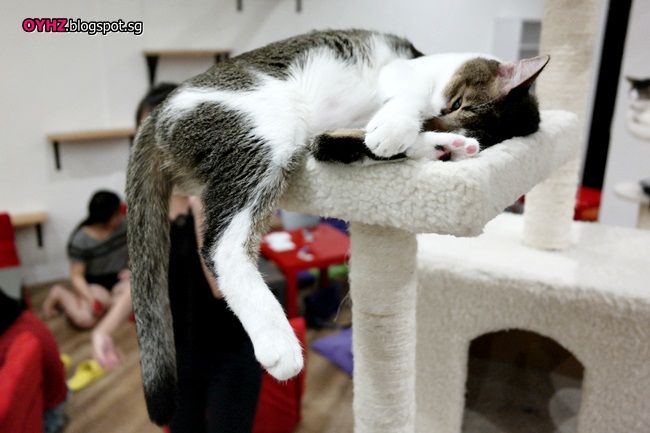 (Is someone taking my photo?)
(*SHOCKS*)
(I better wake up and look cute for the photoshoot)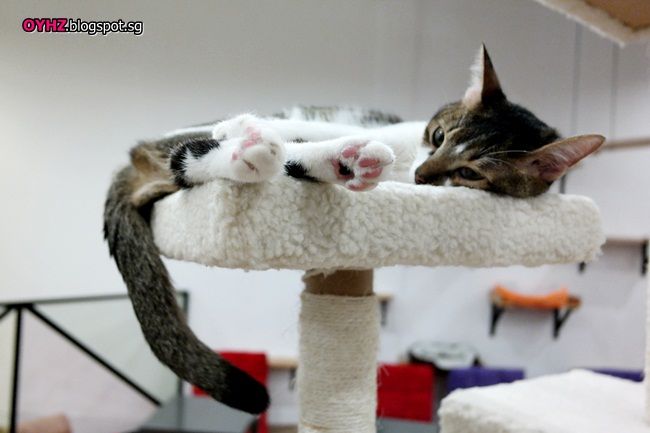 (*Shows my cute pinky paws)
With that, we left the cats to their naps.
The Cat Cafe SG
241B Victoria Street Level 3
(Right above Burger King)
$15 per entry (with a complimentary soft drink)
Top ups available to upgrade drinks to coffee/tea/juices
Age requirement: 6 & Above only. Children under 12 must be accompanied by adults
Tuesday – Sunday, Public Holiday: 10am to 10pm