Been diligently learning household chores and tips recently in hopes to maintain our new place properly in time to come! We're in midst of sourcing for ID/contractors who can understand what we want for a house, and importantly, be genuine and committed. Recommendations are welcome! :)
Was really glad to be invited to try Nature's Glory Dr Bronner's Castile Organic Liquid Soap which has 18 uses to it!
*Certified to USDA Organic Standards
(same strict standards used for Organic Foods)
1. Shave
2. Shampoo
3. Toothpaste
4. Soap Bath or Foot Bath
5. Deodorant
6. Denture Cleaner
7. Mouth Wash
8. Hands Cleanser
9. Body Massage
10. Laundry
11. Douche
12. Hot Towel Massage
13. Pets
14. Dishwashing
15. Toilet Wash
16. Fruits/Vegetables Wash
17. Pest Spray
18. No Rash Nappy Soap
For five generations, over 150 years, the Bronner family is known for their soapmaking excellence. Nothing brings the warmth and coziness of home and hearth into your shower like Dr. Bronner's range of heavenly-scented Castile Organic Liquid Soap. They are certified organic under the USDA National Organic Program, as well as certified Fair Trade. Packaged in 100% postconsumer recycled (PCR) plastic bottles, these soaps are renowned for their quality, versatility and eco-friendliness.
The purity of the source of these soaps grants each droplet its exceptional qualities. They contain a relatively large volume of therapeutic high quality grade essential oil (i.e., 20ml in 1litre) which is really value for money, as typically even a bottle of 10ml essential oil would already cost $20 to $30+. Dr. Bronner's liquid soap is retailing at a reasonably good price of $18.90 for a 16oz. The soaps greatly enhance its penetration deep into the skin to unleash reservoirs of goodness for long-lasting care and love for our skin.
To being with, Dr Bronner's Pure-Castile Almond Liquid Soap is unlike any other soap you have ever used. It is made of a combination of high quality, pure & organic extra virgin coconut, olive, jojoba & almond oils.
Personally, I really love the scent of the citrus version. Can totally imagine using it for many things!
Nothing smells as fresh as the smell of organic citrus oils. The organic orange, lemon, and lime oils in Dr Bronner's Pure-Castile Citrus Orange Liquid Soap stimulate the skin and invigorate the body, resulting in a truly refreshing shower experience.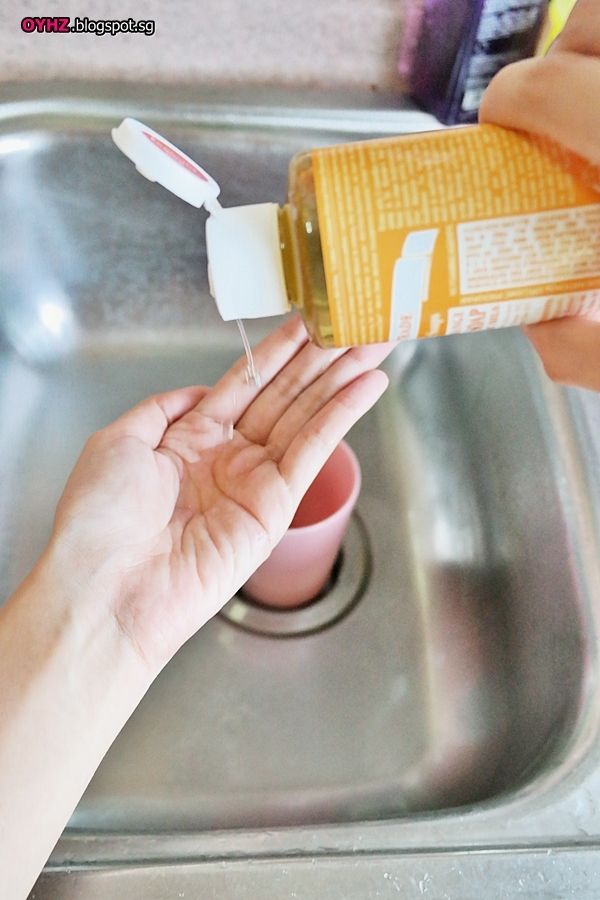 Since I'm on-my-way to be a "housewife", I started off with trying it as a dishwasher instead, heh heh. As stated on its website, Dr.Bronner's Pure-Castile Liquid Soaps are valued for money – up to 4 X more concentrated than other brands of "liquid soaps". With such a lovely scent, I would definitely repurchase this for ashing my clothing in future, or simply a relaxing foot bath next!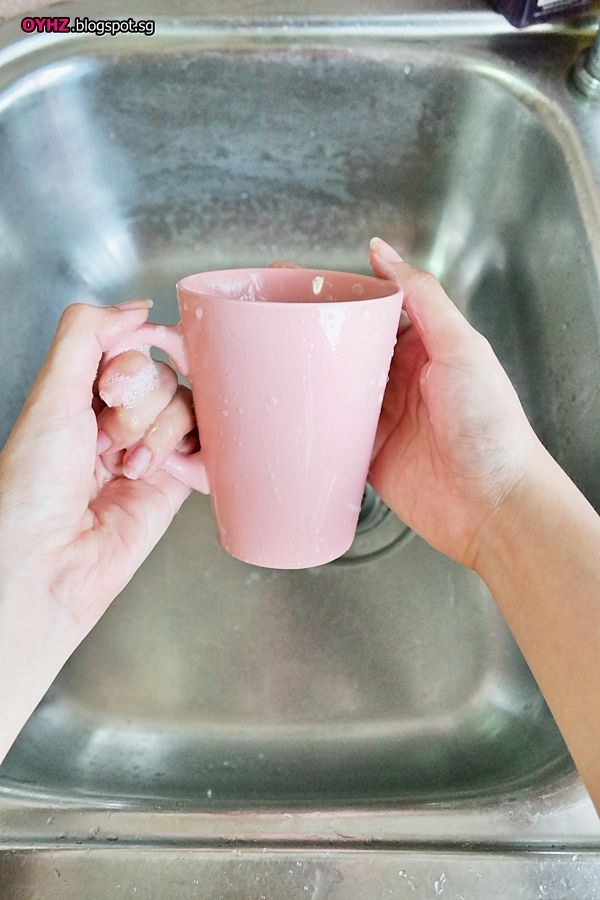 ***
Now, while I'm on Dr Bronner's, I found out about another amazing organic product - the Fresh Pressed Virgin Coconut oil!
Dr Bronner's Whole Kernel Organic Virgin Coconut Oil is expeller-pressed from fresh, carefully dried coconut kernels whose brown inner skins have been left on, resulting in a more aromatic, nuttier-tasting oil. Versatile and delicious, Whole Kernel Coconut Oil can be used for stir-frying, sauces, baking and body care, including hair and body moisturising, oil pulling, DIY toothpaste formulations, and more.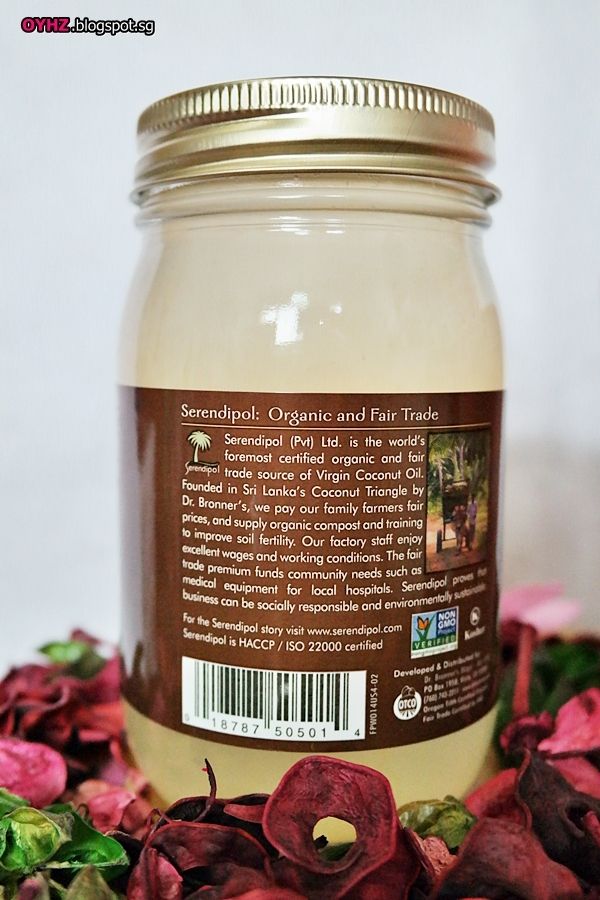 I have not used it as hair or body care yet because it smells TOO YUMMY, lol. Might feel weird for me to use something so delicious smelling on my skin/hair.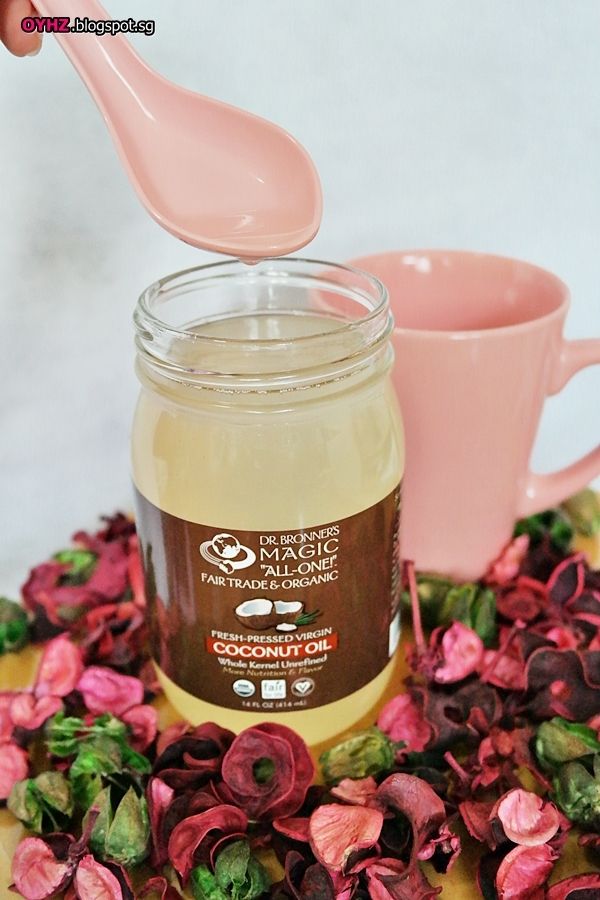 Was hesitating between using it on food as a try-out, or on my face as a quick moisturizing mask.
Decided to add it to my "cooking" eventually when the little sister requested for a late night noodles supper! Secretly added the coconut oil to the noodles soup and it turned out very well indeed! The noodles were more fragrant that she could detect that extra aroma in her supper even though she didn't know of the existence of Dr Bronner's Whole Kernel Organic Virgin Coconut Oil in the house then.
Operation successful!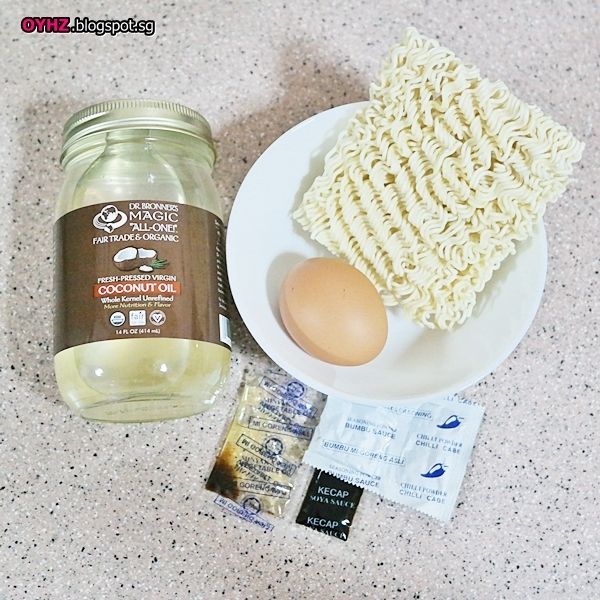 Dr. Bronner's products are available at Nature's Glory retail store or e-shop at www.natures-glory.com.
There's FREE DELIVERY for purchases S$150 & above.
Retail Store:
315 Outram Road #01-09
Tan Boon Liat Building
Singapore 169074
Tel: 6227 1318
Email: customerservice@natures-glory.com