So in this hazy period, and where everybody is either drinking herbal tea or similar to reduce the harmful impacts on our throats or body in general, I was introduced to an yummy,
cooling
alternative - coconut steamboat! The steamboat base is from pure coconut water straight out of coconut itself, with no artificial sweeteners added into soup. This unique steamboat eatery can be found at a traditional coffee shop along the Upper East Coast road.
Chicken Legend
15 Upper East Coast Road
Reservation
+65 92950650
I went for the media tasting by cab as I was in a rush to get there after work. However, after I've arrived, I realised that the stall is actually quite accessible by public transport. It's simply a minute walk away from the bus stop that has buses taking you to various popular stations like Bedok / Tampines :)
Now, let us get started on the food itself!
First, choose your steamboat set + any add-ons!
Here's a simpler illustration of their set menu.
Add-ons:
Set prices start from $20, which is the small set for two. Great for couples who wants to have steamboat by their own yet wanna avoid over-ordering!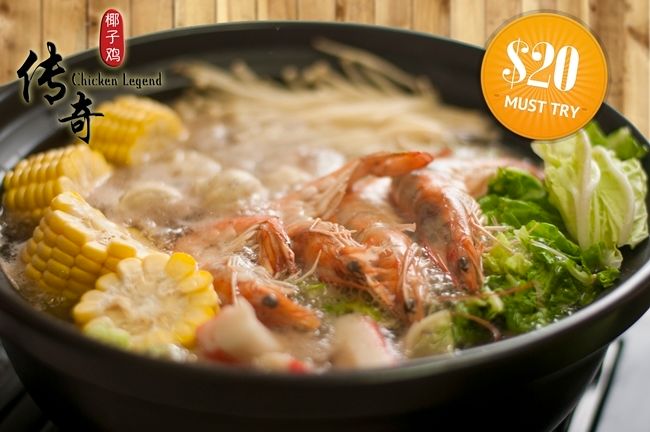 The stall also serves its own special sauce which fuses over 10 different herbs, served with fresh condiments such as garlic, chilli and / or lime of your choice.
We had a regular set, seafood combo, as well as the meat combo.
The chicken cubes are from kampung chickens, which are said to have less fat and are healthier for consumption as they are fed with natural ingredients, rather than antibiotics-laced chicken feed. Also, they are usually reared in free-range farms, allowing the chickens to roam freely which translates to healthily ;)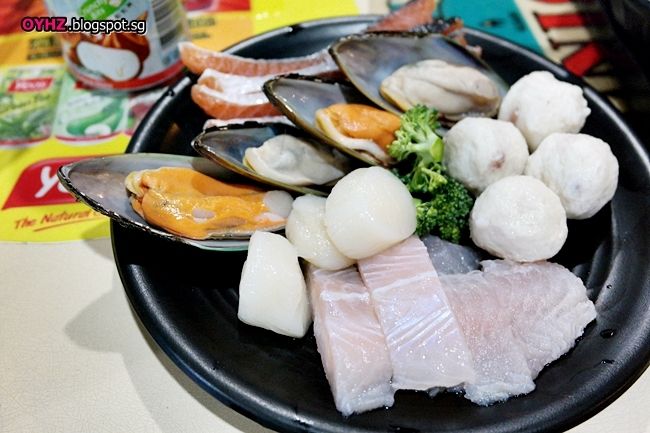 The beef and pork are hand-sliced pretty evenly thin, making them great for sabu sabu ;)
As mentioned, the soup base contains only coconut, with no sugar and water added. The soup on its own is naturally sweet, and becomes more flavourful as the ingredients are added in bit by bit.
(The young, dashing boss showing us the way to enjoy Chicken Legend steamboat!)
Pot of gold!
Even mediacorp Tracy Lee was there for steamboat!
If you're going down to try out Chicken Legend coconut steamboat, do quote "
HUI ZI
" for 10% discount or free plate of meat worth $6 :)